Ninja Shows Off His Rage Quit Skills In League Of Legends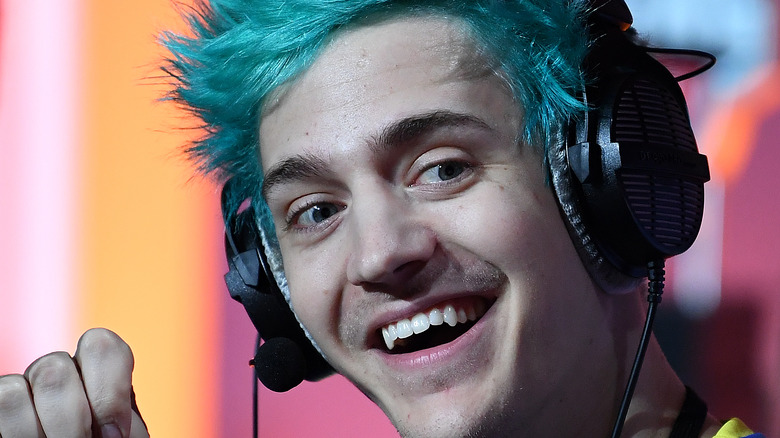 Robert Reiners/Getty Images
Recently, Tyler "Ninja" Blevins took both his gaming skills and his rage-quitting abilities to Summoner's Rift. After claiming he'd never play "Fortnite" again, the superstar streamer turned his attentions elsewhere: "League of Legends."
Advertisement
During an April 17, 2021 Twitch stream, Ninja's slippery rage slope started because of, as he described three minutes into the game, a boosted support. He locked in Tristana as his ADC (Attack Damage Carry) with a Karma support, and the duo lost their level two advantage to enemies Jinx and Pantheon. Like any highly-skilled bot lane would, Jinx and Pantheon had pushed in when they had the advantage, which allowed them to kill Karma and, eventually, Ninja.
After his first death, Ninja complained that Karma didn't help him level up before their enemies, a common tactic in "League of Legends" games. He was provoked even further when the enemy Rammus decided to surprise Ninja and Karma, which made the fight a two-versus-three in the enemy's favor. This turn of events ultimately resulted in Ninja getting skewered by Pantheon's spear and dying.
Advertisement
At that point, Ninja jokingly mentioned that he may "quit streaming." After his death timer ended and he got back into position, Ninja decided to jump onto a low-health Pantheon. However, Pantheon shielded himself and barely took any damage while the enemy Jinx attacked Ninja, which led to another death for Ninja. Rammus was also right around the corner to make the battle another two versus three fight, which resulted in Ninja being down yet again.
The end result was that Ninja decided to leave the game and to end his livestream a bit early. However, instead of the completely losing it in mid-stream, Ninja just calmly stretched after quitting the game — which was probably a much healthier and cost-effective action compared to destroying a keyboard or mouse. Still, it was obvious that the repeated losses really got to him.
This wasn't Ninja's first time on the Rift. According to OP.GG, he's played on the same account since season four of the game, where he ranked at Diamond 5. Since then, he has finally broken out of Diamond and reached Platinum.
If he wants to stay at his current rank, he may need to steer away from dropping out of frustrating games — and possibly work a bit more around the playstyle of his support. Every "League" player knows how frustrating it can be to work around teammates' lackluster plays, but there's no denying that doing so might just help Ninja climb the ranked ladder a little farther.
Advertisement