Esports Are Coming To The Olympics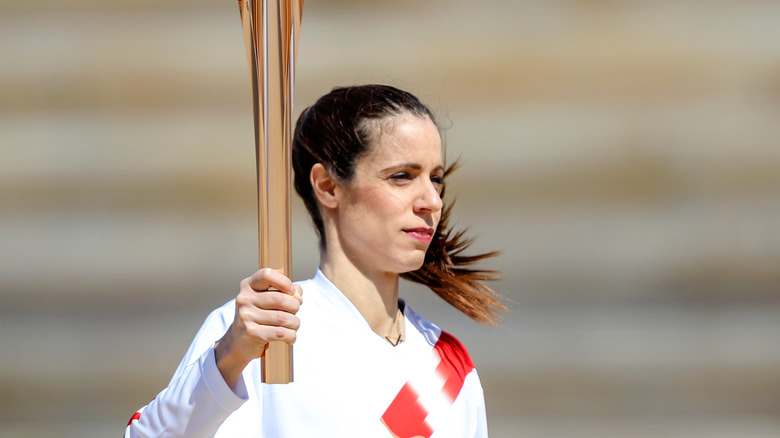 Shutterstock
Things are going digital at the Olympics for the first time ever. Esports will feature at the 2020 Tokyo Olympics, making history for the games and providing a new area of competition for athletes.
A press release from the International Olympics Committee (IOC) announced that it will work with game publishers to produce the "Olympic Virtual Series (OVS), the first-ever, Olympic-licensed event for physical and non-physical virtual sports." The OVS aligns with the IOC's mission to explore new avenues of competition while also reaching a wider audience, as outlined in its agenda. No matter how the IOC looks at it, eSports remain popular, and the proliferation of streaming mediums like Twitch, which fosters intense competition, only adds to the popularity.
Advertisement
The digital games in the Olympics might look a bit different than the typical "League of Legends" or "Fortnite" fare, though. So far, the IOC announced that it would work with several digital sports companies in order to facilitate the OVS. Konami's "Powerful Pro Baseball 2020," Zwift's "Union Cycliste Internationale (UCI)", and Polyphony Digital's "Gran Turismo" will be featured along with virtual rowing and sailing. All of these virtual competitions seek to mimic physical sports in some way, albeit with different challenges.
Some events may not be modeled after physical sports, though. Last year, Intel Gaming announced that the Intel World Open would be postponed until further notice. Originally, the Intel World Open was set to feature "Street Fighter" and "Rocket League" as the first two video games to appear in the Olympics. The Intel World Open has not announced a new date for its event, or if it will continue to participate in the games.
Advertisement
One thing fans might worry about is the fact that eSports often invite mishaps. Because of their digital nature, players can never predict when a bug or glitch will ruin an entire tournament. Particularly, Zwift experienced a cheating scandal earlier this year. The IOC has not stated how it intends to avoid cheating, or how the OVS will be conducted, but more details should be released soon.
The IOC explained that the inclusion of eSports would allow fans to directly participate in the events, rather than work through the complex system of getting traditional, in-person tickets only to sit far away. The IOC did not explain what participation would include, but one wonders if a Twitch-style chat would be appropriate for the prestigious games. 
There's a whole world of things people don't see on TV at the Olympics, but the Olympic Virtual Series looks to change all of that by providing an experience that takes place entirely digitally. What viewers see as these events are televised is likely what will happen on athletes' screens, making the OVS feel more intimate than a traditional game.