Apex Legends Is Going 'Beyond Battle Royale'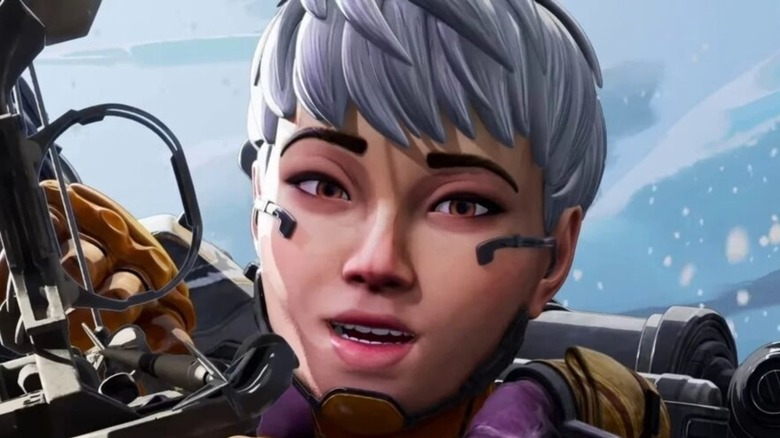 A new trailer has offered multiple updates to the sprawling story of "Apex Legends," as well as a tease of what's to come. Most importantly, the trailer seems to imply that a new game mode will leave the confines of a traditional battle royale in the dust.
The trailer kicks off as a mysterious individual watched the Apex Games on a computer screen. The unseen character remarks that it's "time for a new game," and then the trailer offers a closer look at the newest Legend to join the fray, the jet-powered Valkyrie. She rockets into the battlefield, dodging one explosion after another and pelting her opponents with some missiles of her own.
Fans are then treated to a montage of various match-ups, like Rampart blasting away at a fleeing Octane. It's a pretty wild trailer that gives longtime players and newcomers a taste of what each legend can do. There is even a good mix of humor, including a sequence in which Mirage seems to be serenading his many holographic duplicates in a bar. However, the most exciting reveal comes at the very end of the preview. 
After Pathfinder gives a thumbs-up to "whoever came up with this new game," the trailer shifts back to the bank of computer screens from the beginning. Ash from "Titanfall 2" is revealed to be behind the latest evolution of the Apex Games. Ash says, "It's time to return the Legends to where it started," and welcomes players to something called "the Arenas."
There's a lot here to unpack for fans of "Apex Legends" and the original series it spun off from. Not only does it confirm that Ash is alive and well, but it also looks like the next season of the game, which is referred to in the trailer as "Apex Legends – Legacy," will feature an all-new game mode. It's still unclear what exactly players will find in these new Arenas, but fans are already speculating wildly in the comments below the "Legacy" announcement on Twitter.
Judging from Ash's involvement in the new mode, it may not be too much of a stretch to think that the new mode will be a spin on the Coliseum battles from "Titanfall 2," albeit with more than just two combatants going at it. The trailer promises that the new season will "Go beyond battle royale," and a smaller death match-style gameplay mode would seem to fit the bill. Noted "Apex Legends" data miner Shrugtal has previously alerted fans to the upcoming mode, claiming that the matches will be 3v3. However, that intel has yet to be officially confirmed by EA or Respawn.
Fans won't have to wait too long to find out what the Arena has in store. According to the new trailer, a gameplay reveal has been scheduled for April 26. "Apex Legends – Legacy" is set to launch May 4.