Flappy Bird Creator Returns With Ninja Spinki Challenges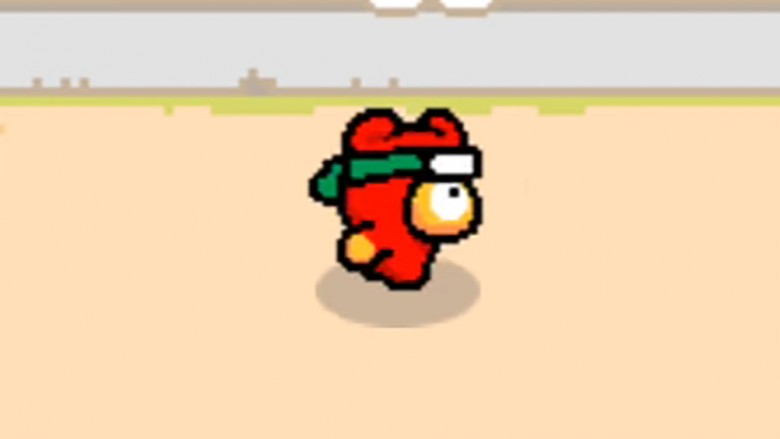 It's been almost four years since Dong Nguyen unleashed Flappy Bird, the surprisingly successful mobile sensation, on the world. Now, Nguyen is back with Ninja Spinki Challenges, a collection of simple mini-games that are just as cute, accessible, and difficult as his previous hit.
Advertisement
In Ninja Spinki Challenges, players control Spinki, a ninja-in-training, as he undertakes six trials in order to prove his martial arts prowess. Like Flappy Bird, every one of Ninja Spinki Challenges' mini-games can be played with one hand, and each one sports cute, retro-style graphics that belie just how brutal and unforgiving each level is—as the description for Ninja Spinki Challenges' official trailer says, "Ninja is not an easy business."
In one of Ninja Spinki Challenges' levels, called Bounce, players must swipe their mobile devices' touch screens in order to avoid giant, jumping kittens. In Shuriken, players tap the screen to launch throwing stars at rival ninjas—if a ninja escapes, the game is over. In Crossy, Spinky must avoid ninja-shaped bombs that roll around the screen, while Jump sees Spinky hopping over deadly apples, bananas, and other fruits. In Rolling, Spinki dodges spiked balls, while in Cannon, he avoids deadly blasts from above.
Advertisement
At first, each game simply asks players to survive for 10 seconds—a lot harder than it sounds—although truly sadistic players can also unlock an Endless Mode for each mini-game.
In 2014, Flappy Bird rocketed to the top of the Apple's App Store charts, earning Nguyen an estimated $50,000 a day in ad revenue. However, that success came at a cost. Skeptics argued that Nguyen used bots to inflate Flappy Bird's numbers, while the game's Mario-like graphics and sounds and similarity to other games led accusations of plagiarism. Despite the game's success, Nguyen pulled Flappy Bird from the App Store, claiming that his sudden fame and his guilt over the game's addictive nature made him unhappy. Yes, that's right—Nguyen is yet another example of a developer who went through absolute hell thanks to his game.