PlayStation Fans Reveal Their True Feelings About May's PS Plus Games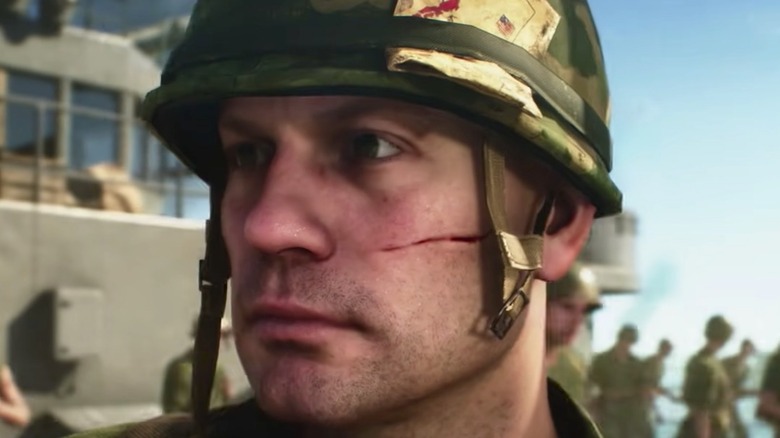 May has nearly arrived, and if you're subscribed to a gaming service, that means one thing: a new selection of free games. This is typically an exciting monthly turnover for gamers, as they prepare for brand new titles to play. Unfortunately, not every month is going to be a winner, and it looks like May is set to be a bit disappointing for PlayStation Plus subscribers.
Over on the PlayStation Blog, the next batch of games was revealed to be "Wreckfest: Drive Hard, Die Last," "Battlefield 5," and "Stranded Deep." The post also warned subscribers that on May 3, April's selection — "Oddworld: Soulstorm," "Days Gone," and "Zombie Army 4: Dead War" — will no longer be available through PlayStation Plus. The important question is, what are fans on the internet saying about the upcoming PS Plus slate?
On Twitter, responses have not been overwhelmingly positive. In a concise tweet, one person simply wrote, "Garbage." Another user had a little more to say, calling it "a slap in the face." This gamer felt that Sony is double-dipping with its services, offering the same titles ("Wreckfest" and "Stranded Deep") on both PS Now and PS Plus. They then expressed the feeling that Sony's service is lacking when compared to the Xbox Game Pass.
Gematsu shared the news on Twitter as well, and reception was just as unenthusiastic. One user said, "Aaaaand we are back to the dull games." Two other gamers posted similar responses: one simply said, "i sleep," while another actually shared a sleeping GIF and the caption, "Okay thanks."
The year started off a little more promising for subscribers. The first PlayStation Plus games of 2021 included "Shadow of the Tomb Raider," "Greedfall," and "Maneater." While users on Twitter were generally more positive about January's batch, they were still upset that Sony was offering similar games on both of its services. And where some may have been hoping for an absolute steal in February, many PlayStation fans were quite unhappy over "Control: Ultimate Edition" being added to PS Plus, because they had just purchased that title and were outside of the return window.
When a consumer pays for a subscription service, it's understandable that they will want to receive a good value for their membership. New releases are bound to disappoint some fans and entice others. Maybe June will bring a more exciting lineup for Sony fans to kick off their summer.