Ratchet & Clank: Rift Apart Shows Off Its First Boss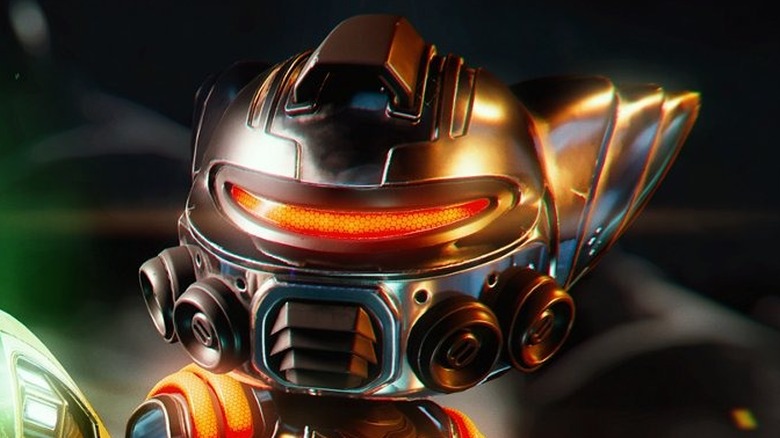 Sony and Insomniac Games have spoiled "Ratchet & Clank" fans in recent weeks. Not only did they drop details about Rivet, the new playable female Lombax who will serve as a co-protagonist in "Rift Apart," they closed out the month with 15 minutes of rather revelatory gameplay. The segment, which headlined the April 29 State of Play, offered a wealth of first looks at features in the follow-up, including footage from one of the game's boss fights.
While pursuing Rivet and Clank, Ratchet runs into a mechanical behemoth identified in the accompanying voiceover as the "Nefarious Juggernaut." As Ratchet questions how it got there, his opponent fires a laser beam from its chest before following up with a succession of smaller, missile-like attacks. The Lombax dodges expertly, popping off a few shots of his own that widdle down the Juggernaut's health bar. The scene then takes an interesting turn.
In the middle of the fight, a dimensional rift opens up, transporting Ratchet and his assailant from a city platform to a grassy field — all with hardly a break in the action. "Thanks to the power of the SSD, we can near-instantly teleport players to completely different locations," creative director Marcus Smith explains. "This isn't some small arena being loaded but the entire level from a different planet."
The advances provided by the PlayStation 5 and accompanying DualSense controller have been touted as key selling points since Sony announced "Ratchet & Clank: Rift Apart" in 2020. Beyond the integration of the dimensional rift mechanic into Ratchet's boss encounter, the latest State of Play highlighted more advantages and additions made possible by the next-gen hardware: combat and traversal abilities, immersive weapons, and franchise first modes, levels, and accessibility options.
Ratchet, Clank, and Rivet can utilize new traversal skills — Rift Tether, Phantom Dash, and wall-running — designed to cut down on the time it takes to get around the various levels. Weapons, such as the NegaTron Collider revealed in the video, also have a fresh feel thanks to the DualSense's adaptive triggers and haptic feedback. Simply press down on the trigger part way to fire an individual round or apply full pressure to bombard your enemies with a continuous stream of fire. Other major highlights from the session include aerial combat and explorable pocket dimensions — it looks like Insomniac is even gunning for a spot on the list of 2021's best photo modes.  
"Ratchet & Clank: Rift Apart" launches exclusively for PlayStation 5 on June 11, 2021.