T-Pain Just Destroyed These Toxic Call Of Duty Players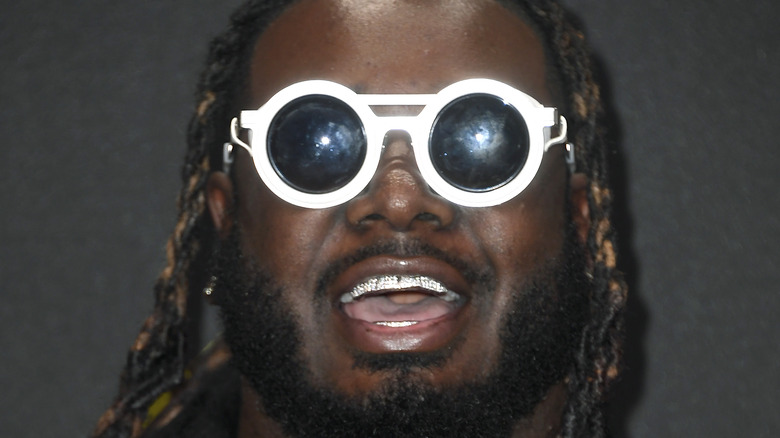 Frazer Harrison/Getty Images
Unfortunately, toxicity is a very real problem in the world of online gaming. While some people enjoy a bit of friendly trash talk before a match, others take things too far, creating an unwelcoming environment for everyone else in the game. Although some companies, like Riot Games, have begun taking major steps to curb toxic behavior in gaming, musician and Twitch streamer T-Pain has recently made a compelling case for a good old fashioned "Call of Duty" smackdown.
During a recent stream, T-Pain was loading into a "CoD" multiplayer lobby when one of the other players was heard to say, "F*** Black Lives Matter." This was immediately followed by a stream of racial slurs, all of which have been censored in T-Pain's TikTok video of the incident. All throughout the storm of swear words and slurs, T-Pain maintained an incredulous look on his face, as if to ask, "Is this really happening?"
It is unclear if these players knew just who they were going up against when they joined the lobby. However, they clearly had no idea that T-Pain is a celebrity with some serious gaming skills, and he was more than happy to show them that they had messed up. 
Knowing that at least one of the players in the match was responsible for the storm of slurs, T-Pain loaded into the game with a simple mission. With a wry smile on his face, T-Pain said to his chat, "I want all of them. I want every single f***ing one of them."
And he got them. As the clip goes on to show, T-Pain went after his enemies as hard as he possibly could, mowing all of them down in a hail of virtual gunfire. The rapper and singer became increasingly excited as the match went on; by the end, he was screaming, "I want the whole thing! ... I want it all, boy!"
T-Pain cackled as the word "VICTORY" appeared on his screen in huge lettering. "Stupid idiots," he said, taking a celebratory sip from his glass.
The whole display was well-received by fans of the rapper, and T-Pain's TikTok of the event racked up over 450,000 likes in just a day. People seemed to love seeing T-Pain, as Dexerto put it, "[turn] into John Wick on these racists."
Just as T-Pain has never shied away from speaking the hard truth to his Twitch subscribers, he also had no qualms about annihilating these toxic gamers. Maybe this satisfying beatdown will bring some more attention to his channel, where the musician frequently brings the heat to every match.