Explore Morrowind In The Elder Scrolls Online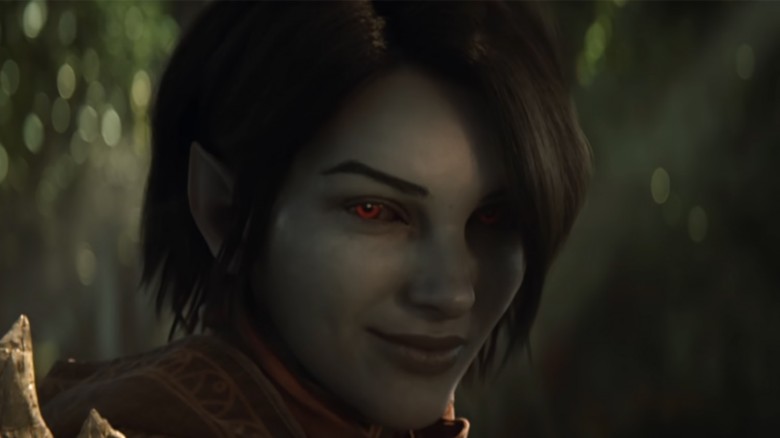 Morrowind is getting a second chance to shine. A major expansion will bring the island of Vvardenfell to Bethesda and Zenimax Online's MMORPG, The Elder Scrolls Online, allowing players to return to the lands made famous by The Elder Scrolls III: Morrowind once again.
In a press release (summarized by outlets like Engadget), publisher Bethesda promises that the aptly-named The Elder Scrolls Online Morrowind expansion will bring over 30 hours worth of quests, a three-team player-versus-player mode called Battlegrounds, and a new zone roughly the same size as The Elder Scrolls III: Morrowind's map to the popular MMORPG. The Morrowind expansion also adds a new character class, the Warden, who can take on bad guys with earth-based magic and a ferocious (but also kind of adorable) pet bear.
Players who already own The Elder Scrolls Online can purchase Morrowind for $39.99, while newcomers will be able to pick up both the base game and the expansion for $59.99. Both versions come out on June 6, 2017.
In addition, Bethesda is prepping two Morrowind editions for collectors. The digital collector's edition will cost $79.99 and includes an armored war horse mount, a dwarven spider pet, and a few other in-game items. The physical collector's set comes with all of the digital exclusives, in addition to a 176-page book that chronicles "Morag Tong assassin Naryu's pursuit of a conspiracy across Tamriel," a map of the Morrowind region, and a 12" Dwarven Colossus statue. It will cost $99.99.
The Elder Scrolls Online launched in 2014 to mediocre reviews, but over time, Bethesda and developer Zenimax have slowly tweaked and improved the game, including a major overhaul tied to the game's console release. Originally, players needed to pay a monthly fee to access The Elder Scrolls Online's fantasy world—Zenimax dropped the subscription fee in 2015, although die-hard fans can still purchase a service called ESO Plus in order to score a few extra goodies.
While The Elder Scrolls V: Skyrim, a port of the classic 2011 RPG, is coming to the Nintendo Switch, Bethesda's The Elder Scrolls VI is nowhere in sight, making The Elder Scrolls Online the only place to enjoy new adventures in Tamriel for the foreseeable future.