The Internet Is Freaking Out Over LeBron James' Gaming Question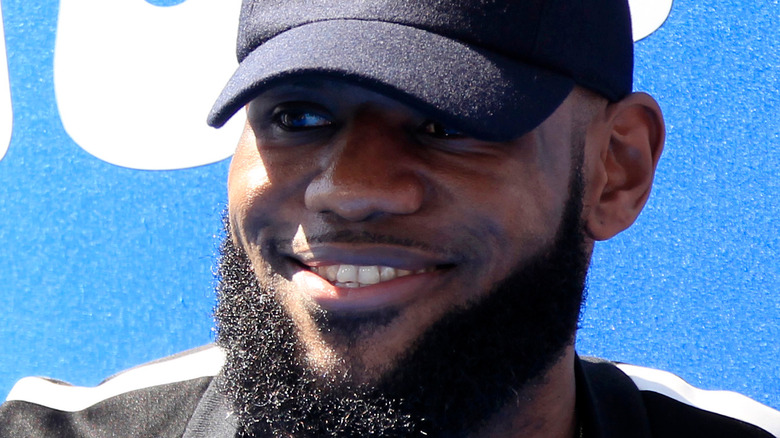 Shutterstock
LeBron James is a sports legend, an actor, and education advocate, but he recently revealed a different part of his personality to many of his fans by sending out a humble request. James tweeted, "Who makes the best/most comfortable gaming chair? I need one for myself." James' question wasn't looking just for any gaming chair, but one that would fit his 6'9 frame well.
Needless to say, the internet went bananas in response to James' tweet, and big name streamers appeared out of nowhere to help. Timthetatman responded with support for one of his sponsors, saying, "Herman Miller Embody gaming chair– trust."
"Minecraft" YouTuber Dream had to shoot his shot at a chance to speak with James, and tweeted, "dm me, I don't have an answer but DM me anyway." Corpse Husband was quick to respond as well, vouching for Dream. Fellow "Minecraft" streamer TommyInnit similarly tried to win the attention of the basketball legend by saying, "Hi LeBron. [C]reator of basketball. [E]ver heard of the hit game 'Minecraft.' I know the guy that made it. DM me." Earlier, TommyInnit had playfully responded to his friend Dream by telling him that pleading for attention was a "new low" for him before tweeting a similar plea. MrBeast simply asked if LeBron even knows he exists.
LeBron James is well-known as a hardcore gamer, with Polygon once spotlighting how the athlete's impressive memories has enabled him to secure one victory after another. However, many of this fans didn't know about this side of him until now, and not all of them were pleased. 
One self-proclaimed "youth football coaching legend" accused James of encouraging "young people to sit in a chair, play 'Mario Kart,' and get out of shape." He then proceeded to describe how he once glued a player's hands to a game controller as a punishment for playing them. Other fans were quick to point out that many NBA stars play games, and that video games in and of themselves do not necessarily have a negative effect on players. 
As of now, James has not detailed what kinds of games he plans to play from his new chair, nor has he responded to the outpouring of support for his gaming habits. However, James isn't the first person in his family to make the jump into the gaming world, or the basketball world for that matter. James' son, LeBron James Jr., a.k.a. "Bronny James," has already earned some clout in the gaming world, as he was picked up by esports team FaZe Clan in 2020. Bronny has also made a splash in the basketball world as well, and may just follow in his dad's footsteps one day. In the meantime, maybe Bronny can show his dad a thing or two about video games. But first, James has to find the perfect chair.