Goonies Never Say Die To Lego Dimensions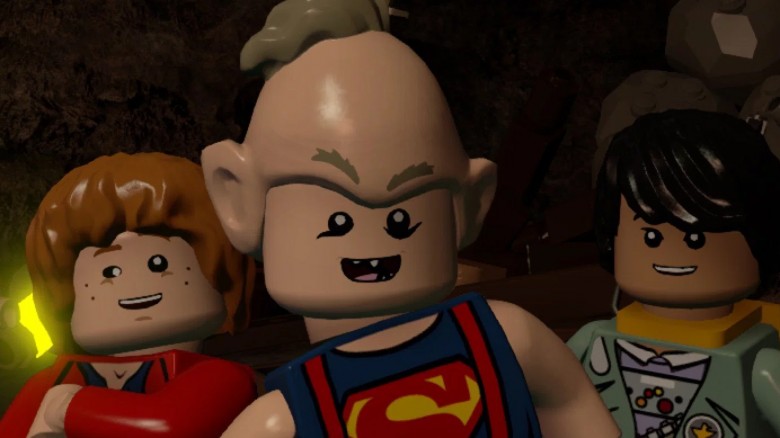 For a game ostensibly designed for children, Lego Dimensions sure has a lot of content for 30-year-old fans. The Goonies joins other eighties stalwarts like Ghostbusters, Back to the Future, and Gremlins in Lego Dimensions when the toys-to-life game's eighth wave of accessories arrives in stores this May.
The Goonies level pack unlocks a brand new world in Lego Dimensions modelled after Richard Donner's kid-friendly 1985-adventure flick, in which players will have to escape from the dastardly Fratelli family and delve into underground caves in order to recover One-Eyed Willy's treasure. Lego Dimensions' Goonies set includes a rebuildable version of One-Eyed Willy's pirate ship, a skeleton organ with "Sonar Smash" abilities, and a minifigure version The Goonies' misshapen sidekick, Sloth. Chunk, one of the Goonies, will join the adventure in-game as a playable character—and yes, he will do the Truffle Shuffle. Other locations from the film, including Mikey's house and the Goon Docks, will be explorable in The Goonies' Adventure World.
Lego City Undercover, Traveler's Tales' kid-friendly Grand Theft Auto riff, will also be part of wave eight, just in time to promote the upcoming Xbox One, PlayStation 4, and Nintendo Switch editions of the game. The Lego City Undercover Fun Pack includes a Chase McCain minifigure and a customizable police copter, and will unlock levels set on the moon and in the Lego City police department. Finally, Hermione and her Hippogriff pal, Buckbeak, will join fellow Harry Potter stars like Harry, Professor Snape, and the cast of Fantastic Beasts and Where to Find Them in a new Harry Potter Fun Pack.
Lego Dimensions is Warner Bros. Interactive's entry in the lucrative toys-to-life genre, in which special hardware brings physical playthings into digital worlds. Like the easter-egg packed The Lego Movie, Lego Dimensions mashes up characters and worlds from many different franchises, including DC Comics, The Lord of the Rings, and Lego Ninjago.