Stardew Valley Collector's Edition Confirmed For PS4 And Xbox One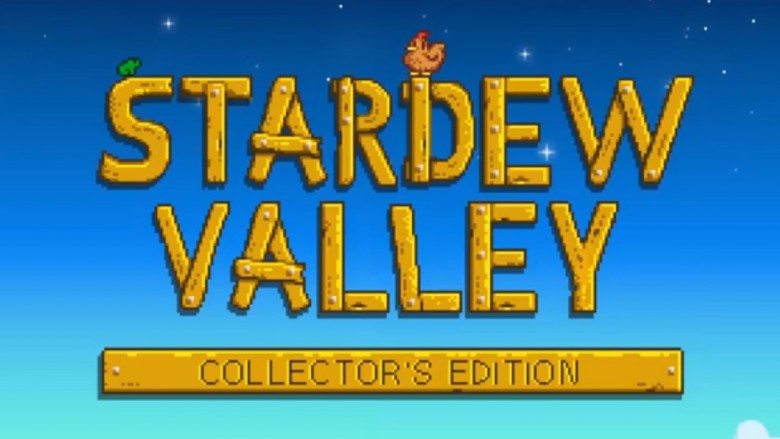 Chucklefish Games, the publisher backing Eric Barone's farming simulator Stardew Valley, isn't just releasing the game in hard copy on Xbox One and PlayStation 4—they're also packing the physical release with some extra goodies that are sure to excite Stardew Valley's large and passionate fanbase.
In collaboration with 505 Games and ConcernedApe, Chucklefish will launch the Stardew Valley Collector's Edition on April 11, 2017 in the United States and April 13, 2017 in Europe and the UK. In addition to the Stardew Valley game, which hit consoles last December as a download-only title, the Stardew Valley Collector's Edition will include a miniature version of Fangamer's hand-illustrated Stardew Valley Guidebook, a fold-out map of Pelican Town, and a copy of the game's soundtrack. The whole package will cost $30—the same price as the full-sized edition of the Stardew Valley Guidebook, making the Collector's Edition a steal for people who haven't picked up both the book and the game.
Advertisement
Stardew Valley started development as an alternative to the Harvest Moon games, which Barone thought were "usually fun, but I felt like no title in the series ever brought it all together in a perfect way." Stardew Valley also borrows ideas from Animal Crossing, Terraria, and Minecraft.
Barone developed Stardew Valley all by himself, often working over 10 hours a day, while Chucklefish handled many of the ancillary tasks, including marketing the game and maintaining Stardew Valley's webpage. After four years in development, Stardew Valley launched in February, 2016, and became an immediate best-seller—the farming sim sold over 400,000 copies in its first two weeks and moved over one million units in its first couple of months.
Advertisement
Barone continues to support the game with major content updates, while Barone and Chucklefish are collaborating to bring Stardew Valley to as many platforms as possible, including the Nintendo Switch (sadly, Stardew Valley won't be one of the Switch's launch titles, and is instead due later this year).