This Minecraft Map Contains An Entire Pokemon Game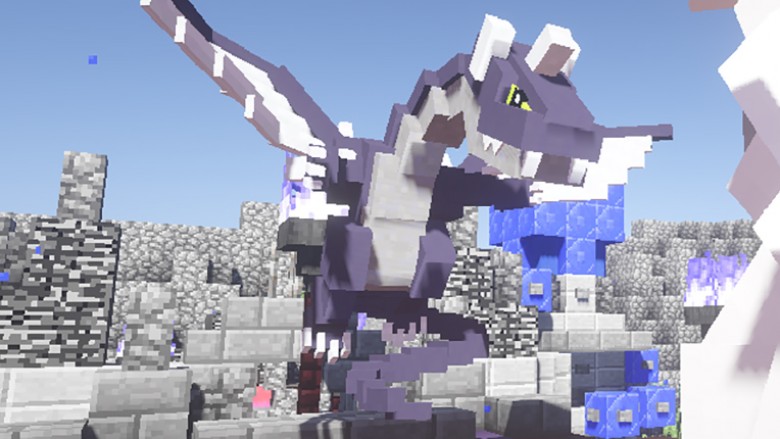 Maybe the winter weather has you stuck inside, keeping you from enjoying Pokémon Go. Maybe you've spent the last couple of months using every tip and trick you know to fill out Pokémon Sun and Moon's Pokédex. Either way, if you're hankering for more Pokémon action, you're in luck—last weekend, Phoenix SC released Pokémon Cobalt and Amethyst, a complete single-player Pokémon game crammed into a single Minecraft map.
Pokémon Cobalt and Amethyst contains everything you'd find in a traditional Pokémon title. Obviously, Pokémon Cobalt and Amethyst players can fight, capture, and train Pokémon, but they can also challenge other trainers to battles, take on Pokémon Gym leaders, and even challenge the members of the Pokémon League. Pokémon Cobalt and Amethyst features 136 Pokémon from different games in the series, a brand new map, and an original story centered on an alternate dimension called the Distortion World. Menu-based combat, the original sound effects, fully-animated cutscenes—it's all here.
Pokémon Cobalt and Amethyst isn't the only Pokémon add-on for Minecraft, of course—Pixelmon and Pokécube have been out for years, and both are very popular. However, while those two games are modifications, Pokémon Cobalt and Amethyst is technically just a regular map. All you'll need to play is vanilla (regular) Minecraft version 1.8.8 (not 1.9, the newest edition).
Phoenix SC estimates that Pokémon Cobalt and Amethyst will take players 60 to 70 hours to finish—Phoenix finished the campaign in 70 hours, with a team of Pokémon levelled to the high-40s and mid-50s. However, Phoenix SC "did not catch 'em all" during his playthrough, indicating that there's a lot more gameplay available for all of the Pokémon completionists out there.
You can download Pokémon Cobalt and Amethyst at the official site for free, but act fast. Nintendo has a history of quickly axing fan-made Pokémon projects, as the creators of last summer's ill-fated Pokémon Uranium learned all too well.