Dr Disrespect Prank Leads To A Birthday Celebration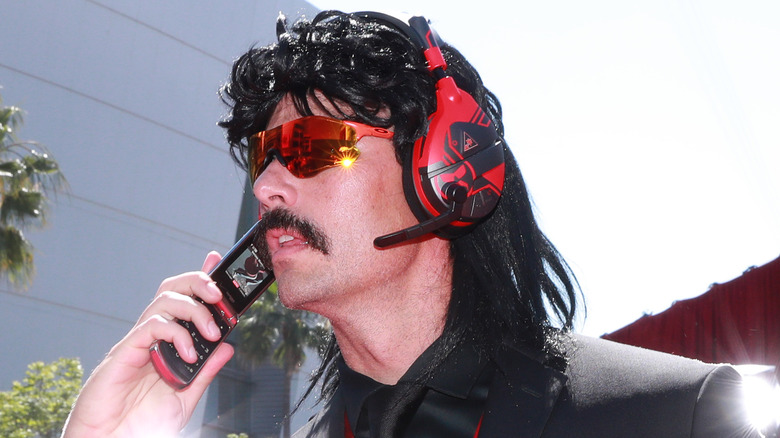 Rich Fury/Getty Images
Dr Disrespect is one of the biggest streamers on the planet, and not just because he is allegedly 6'8. He has millions of subscribers, and his stream views climb to the hundreds of thousands. But, how much does the average Dr Disrespect fan know about him? Do they know he is married and has a bubbly gamer daughter? Can Dr Disrespects' fans point out his actual birthday? If the answer is '"no" to either question, you might have potentially been tricked by a recent prank, courtesy of an unwitting news channel.
ABC 9 in Syracuse, New York has a tradition of wishing locals a happy birthday live on-air, and on May 5, it carried on that custom for people such as "Julie," "Lanie," "Lucian" and "Roger." However, the first birthday wish to grace the air was a surprisingly familiar face labeled "Guy." Yep, the news station wished Dr Disrespect (real name Herschel "Guy" Beahm IV) a happy 40th birthday.
"Happy Birthday Guy! 'Here's to your 40s,' they say. 'Bringing you even more momentum and success. Keep on being a champion,'" the news hosts read.
Granted, the newcasters used a picture of Dr Disrespect in casual, non-gaming attire, so it's not surprising they didn't recognize him, but why did the news channel wish Dr Disrespect a happy birthday in the first place? Because they were pranked just as much as Dr Disrespect hanse was. Luckily, the pranksters behind the event left a calling card.
Why hast thou Forsen-ken me?
When ABC 9 in Syracuse, New York unknowingly wished Dr Disrespect a happy birthday, the hosts stated that the request came from Guy's "wife Nina and baby boy Sebastian." Now, die-hard Dr Disrespect fans know that his birthday falls in March, which makes the May 5 video even more confusing. At least, until you work through that bewilderment and realize that the provided well-wishers' names don't belong to his family (the "baby boy" should have been your first clue) and are the pranking perpetrators.
Sites such as Comicbook.com and Dextero have deciphered that "Sebastian" is most likely code for Twitch streamer Sebastian "Forsen" Fors. "Nina," meanwhile, probably refers to Fors' girlfriend, Nina Heichou. Forsen has a history of playing pranks on fellow streamers, so this theory makes sense, and if true, this birthday wish would be his latest one. But, instead of going directly for his target, Fors (or at the very least, his fans) roped a news channel into carrying out the prank for him. He would have gotten away with it too if it weren't for Dr Disrespect's meddling fans, such as Twitch streamer Nymn, who identified the prank for what it was. Or was that the point?
One can only imagine the look on the ABC 9 news hosts' faces when they realized the truth.