Returnal Outsold Almost Everyone In A Day
Following an unfortunate delay, "Returnal," Housemarque's new critically-acclaimed PlayStation 5 title, was released on April 5, 2021. The pre-release hype for "Returnal" was such that the game was thought to be the push many PS4 gamers needed to move onto the PS5. Despite being released on the very last day of the month, the game outsold almost everything else on the PlayStation 5.
Advertisement
On May 10, the PlayStation Blog released a list of the top selling digital games of April. As the company pointed out, there were several major titles that were released in April, including "Returnal" and "MLB The Show 21" on PS5. "MLB The Show 21" was at the top of the list, followed by "Outriders" and then "Returnal."
However, "MLB The Show 21" was released on April 20, so the game nearly two full weeks' head-start on "Returnal." Meanwhile, "Outriders" was released on April 1, and had the entire month to gather up sales. "Mortal Kombat 11" was right below "Returnal," meaning that "Returnal" was able to beat out the hype train resulting from the new "Mortal Kombat" movie adaptation.
'Returnal' beat out major PlayStation titles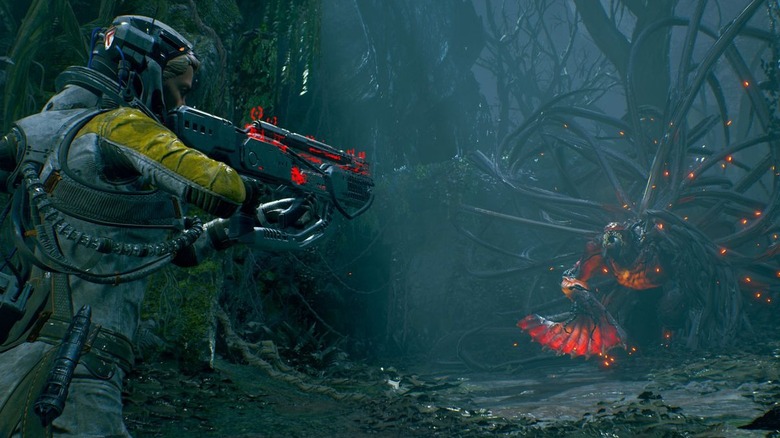 The PlayStation Blog noted that games like "FIFA 21," "Call of Duty: Block Ops Cold War," and "GTA 5" are "chart-topping regulars," and that "Returnal" still knocked them all down a place in one day. The game also beat out titles like "It Takes Two" and "Marvel's Spider-Man: Miles Morales" In the United States and Canada.
Advertisement
However, in Europe, the chart looked a bit different. "Returnal" was still in the top five, but "It Takes Two" took third place. "FIFA 21" also rose up in the European chart, placing first on the list. "MLB The Show 21" came in at 20th place, the total opposite of where it ended up on the United States/Canada list.
The official PlayStation Twitter announced on May 11 that "Returnal" was April's Player's Choice winner, which further showed just how much audiences enjoyed the game, warts and all. After its release, "Returnal" ran into some issues, including a botched patch that led to a lot of people having to restart the game. Even with that in mind, it seems that "Returnal" was able to win over PS5 players in sales and popularity.
Advertisement