Hot Wheels Take The Field In Rocket League DLC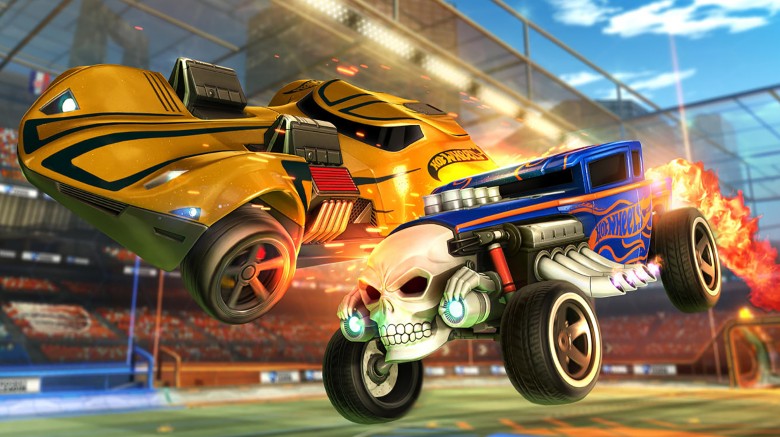 The cycle is complete. Just a few days after Psyonix Games revealed that Rocket League, its multiplayer soccer-racing mash-up, would invade the real world through an exclusive set of real-life toys, the developer says that cars from the long-lived Hot Wheels miniature car line will be joining Rocket League's digital roster.
On February 21, 2017, Psyonix will release two sets of downloadable content, each containing a classic Hot Wheels vehicle, for $1.99 a pop. In addition to the iconic Bone Shaker and Twin Mill III vehicles, the premium DLC packs will include six exclusive decals that can be placed on any car in your Rocket League garage.
You won't have to pay for all of Rocket League's Hot Wheels content, either. In addition to the two paid DLC sets, all users will be able to earn Hot Wheels-branded car toppers and antennas free-of-charge. These special items will be doled out randomly after Rocket League matches.
Hot Wheels isn't the only major brand that's come to Rocket League since the game's debut, of course. Last year, the Batmobile joined Rocket League as a special promotional item tied to the premiere of Batman v Superman: Dawn of Justice, while basketball fans can adorn their Battle-Cars with their favorite teams' logos by purchasing Rocket League's NBA flag pack.
This isn't the video game debut for either the Bone Shaker or the Twin Mill III, either. Both Hot Wheels cars appear in the web-based racing game Hot Wheels Track Attack, while the Bone Shaker is one of seven Hot Wheels vehicles included in Forza Motorsport 6's Hot Wheels Car Pack.
Hot Wheels, one of the oldest and most enduring toy brands in America, was originally launched in 1968 as a faster-paced and more exciting alternative to the classic Matchbox line of miniature cars. By contrast, Rocket League is a much newer product—the game came out in July, 2015—but it's proved remarkably popular, with over 25 million registered players, a growing esports scene, and a thriving community that makes it one of the best games on consoles or PCs.