Ultra Street Fighter 2 Lets You Throw Hadokens In First-Person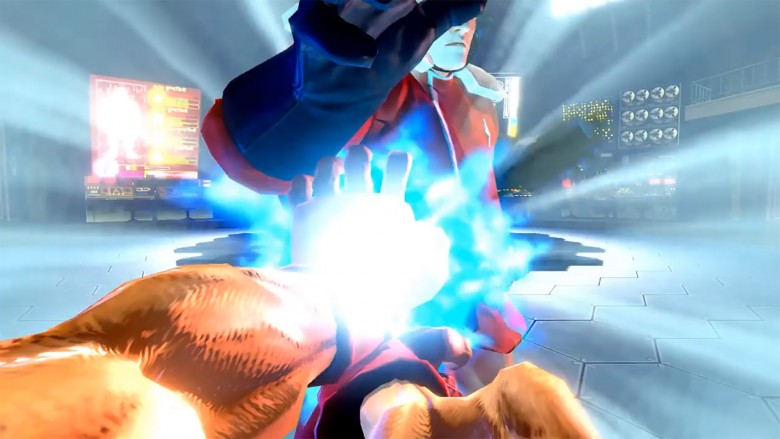 You've played Street Fighter 2 before, but you've never played it like this. Ultra Street Fighter 2: The Final Challengers, the Switch-exclusive edition of the genre-defining fighting game, will include a special mode in which players battle foes from a first-person perspective.
According to the marketing copy on Ultra Street Fighter 2's retail package, the new first-person mode is called "Unleash! HaDOken," and is apparently tailored for the Switch's versatile Joy-Con controllers. Details about the first-person mode are scarce, but judging from screenshots and Ultra Street Fighter 2's previously released trailer, players will use the Joy-Cons to throw hadokens—Ryu's iconic fireballs—at waves of Shadaloo soldiers.
Advertisement
"Unleash! HaDOken" isn't the only new content that Capcom is bringing to the 26-year-old brawler. According to the box, Ultra Street Fighter 2 also includes an art gallery that contains over 250 images, while Capcom previously announced that two new fighters, Evil Ryu and Violent Ken, will join the game's roster of playable characters. Players can choose to play Ultra Street Fighter 2 with either original or remastered graphics, and can team up to take on Street Fighter's colorful cast in a special co-op mode.
Street Fighter 2 first debuted in arcades in 1991 and promptly took the gaming world by storm. Not only did Street Fighter 2 lay the foundation for every fighting game that followed, establishing a formula that's still used today, but the Super Nintendo version of Street Fighter 2 was Capcom's best-selling title for over twenty years. Ultra Street Fighter 2: The Final Challengers doesn't have a release date, but given the original title's popularity, Capcom says it wants to release the game as soon as humanly possible.
Advertisement
In the meantime, you can get your Street Fighter fix by playing Street Fighter V on the PlayStation 4 and PC—just watch out for opponents like Ryan Hart, who beat the game's creator and 259 other opponents in one of the greatest killstreaks of all time.