Swamp Thing Joins The Fray In Injustice 2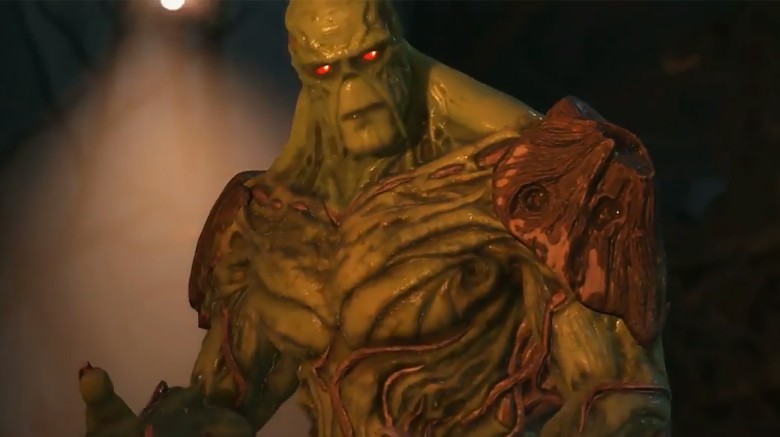 Another week, another new character joins Injustice 2. An exclusive trailer at IGN features Swamp Thing's fighting game debut—and from the looks of things, the creature formerly known as Alec Holland is going to give the other superheroes one heck of a fight.
As a swamp elemental, Swamp Thing's powers are nature-based, and aside from some pretty devastating punches, most of his attacks seem to involve growing various plants in order to change his shape. In the trailer, Swamp Thing turns his arms into vines, which he uses like whips, drives roots into the ground in order to avoid incoming damage, sprouts horn-like branches to skewer opponents, and grows himself a set of plant-like wings for some aerial attacks.
Advertisement
The video is heavy on action and light on story, and the role that Swamp Thing will play in NetherRealm Studios' superhero dystopia isn't clear, although it looks like Swamp Thing has some kind of history with the League of Assassins' top dog, Ra's al Ghul. Swamp Thing didn't appear in the first Injustice game, but did pop up as an ally of Constantine and Batman in Year 3 of Injustice's comic book spin-off.
Swamp Thing joins the ever-growing group of DC superheroes and villains who will battle it out in DC Comics' dark alternate future this May. Last week, IGN and NetherRealm announced that Black Canary will appear in Injustice 2 as a playable character, while fan-favorites like Robin, Deathstroke, Batman, and Superman are also set to return.
Advertisement
Injustice: Gods Among Us came out in 2013 and proved to be a surprise hit for NetherRealm, the studio behind the most recent string of Mortal Kombat games. In Injustice, a group of superheroes led by Batman fight to take down Superman, who snapped after the Joker killed Lois Lane. The mature, pitch-black take on DC's classic characters proved to be immensely popular with fans—and, possibly, the people behind DC's upcoming superhero films as well. Injustice 2 comes out on May 21, 2017 on both the PlayStation 4 and the Xbox One.