Jamie Lee Curtis Shares Awesome Behind-The-Scenes Image From The Borderlands Movie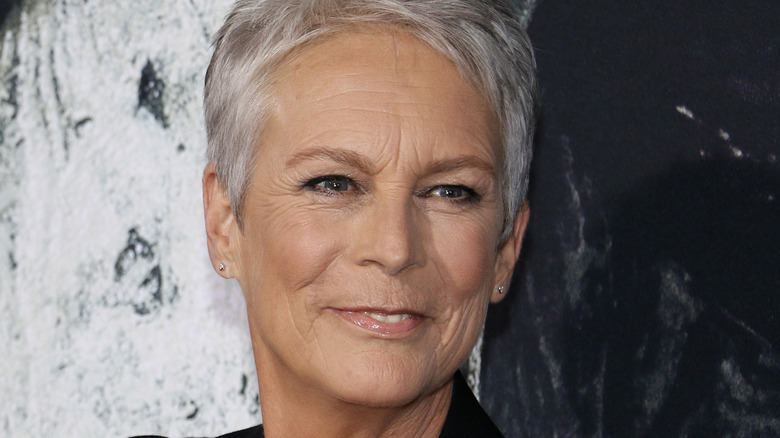 Shutterstock
"Borderlands" is one of the most highly anticipated cinematic adaptations of a video game currently in the works. "Hostel" director Eli Roth is behind the camera, working from a script he co-wrote with "Chernobyl" scribe Craig Mazin (who's also writing another video game adaptation: HBO's "The Last of Us"). The cast of "Borderlands" is packed with A-listers: two-time Oscar-winner Cate Blanchett as the mysterious outlaw Lilith, Kevin Hart as the disgraced mercenary Roland, screen legend Jamie Lee Curtis as the mad scientist Dr. Patricia Tannis, and comedy icon Jack Black as the wisecracking robot Claptrap.
The "Borderlands" games are set on a planet called Pandora, where treasure-hunters compete against corporations and military outfits to find the untold bounty the planet hides. The franchise is notable for its comic book-influenced visual style, sense of humor, and incredibly fun gameplay. It's also massively popular — "Borderlands 3" sold five million units in its first five days of release in 2019, according to Business Wire – so there's a lot of pressure on the movie to live up to the game franchise, though the CEO of developer Gearbox made it clear that the "Borderlands" movie isn't a direct adaptation of the games.
If a new behind-the-scenes photo Jamie Lee Curtis just shared is any indication, fans of the game franchise shouldn't be worried: "Borderlands" is going to be cool.
Our first glimpse of Lilith
On Twitter, Jamie Lee Curtis posted a silhouette photo of her co-star Cate Blanchett looking absolutely badass as Lilith. It's the first photo of Lilith of any kind that's been released from the movie so far, and it's exciting — especially since it looks like the minds behind the film nailed Lilith's signature spiky haircut. "Welcome to BORDERLANDS & a secret BTS shot I took of Lilith, our legendary heroine, psycho blasting, vault hunting vixen with a bad attitude," Curtis captioned the photo.
"Borderlands" fans were ecstatic over the reveal. "OMG!!! No freaking way!!! I cant wait!!! This is going to be amazing!!" Twitter user @UMermaid86 wrote in response to Curtis' post. "Sorry, I've been waiting for this for 12 years and I might be a little stoked to see this image."
"Thank you sm, Jamie!!" wrote @blanchettheart. "We can already feel her power!!! No doubts she's gonna look SO GOOD!!! Can't wait to see MORE!"
In the film, Lilith is described as "an infamous outlaw with a mysterious past" who "reluctantly returns to her home planet of Pandora to find the missing daughter of the universe's most powerful S.O.B., Atlas," played by Édgar Ramírez (via Deadline). Lilith forms a team with the aforementioned misfits, along with some other crazy characters like pre-teen explosives expert Tiny Tina (Ariana Greenblatt) and her hulking, barely verbal bodyguard Krieg (Florian Munteau). Together, they go on a journey to save the missing girl, fighting monsters and bandits along the way.
"Borderlands" doesn't have a set release date as of this writing, and is currently in production.