How Long Does It Take To Beat SnowRunner?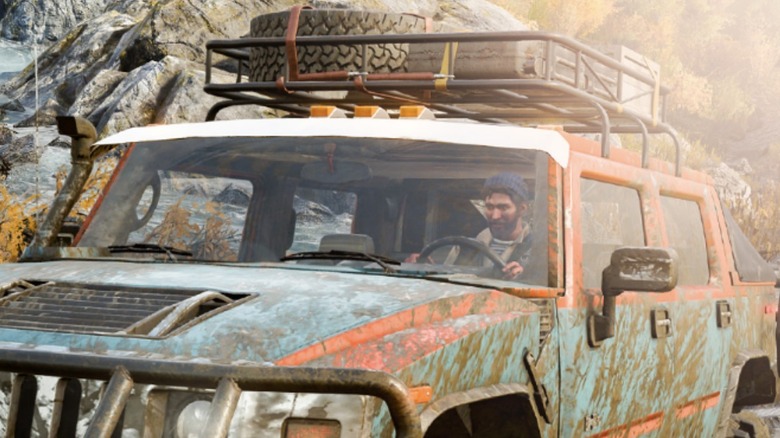 If you're looking for a game that truly captures the essence of a long, cold winter, "SnowRunner" may be for you. This off-road PC title packs a healthy helping of adventure, and it's going to keep you busy for quite some time. Whether that's a win or a loss for your gaming goals, you'll want to stay tuned to learn a bit more about what to expect in "SnowRunner," and find out just how long it will take you to beat it.
"SnowRunner" features options for solo play as well as a cooperative multiplayer experience with up to four gamers total (via Focus). With tons of missions to tackle as well as open-world possibilities, it's your job to weather the elements, explore, and complete your tasks. Though it's not the most popular (and coincidentally also car-related) open world game like "GTA", it's still worth the buzz.
You'll also get to grow and customize your fleet with up to 40 vehicles from real-world brands like Caterpillar, Ford, and Chevrolet, if you're up to the task. Expect challenging, realistic gameplay that will keep you busy for hours with expansive maps and possibilities along the way. It won't be easy, but after all, driving is actually harder in games than in real life.
This is how long it takes to beat SnowRunner
So, how many hours exactly will you be putting into this game? Nearly 100, if not more. Of course, every player goes at their own pace, so take these expert-created estimates in context with your personal experience level and play style. Keep in mind, good things in gaming take time.
According to GameRant, "SnowRunner" will take you about 90 hours if you're playing the main story as a single player, "although many players sink hundreds of hours into the game." Crowdsourced data from HowLongToBeat yielded similar results. The site estimates that the main story of "SnowRunner" takes an average of 90 hours to beat. The main story plus some extras takes an average of 112 hours, while completionists may be busy for up to a whopping 190 hours. These results are also backed up by data from TrueAchievements gamers and contributors, which clocks a full "SnowRunner" completion in at 200 plus hours.
Now that you've got the details on how long it takes to beat this unique driving game, find out which video games are worth more than your car.