Classic Atari Games To Be Resurrected As Comic Books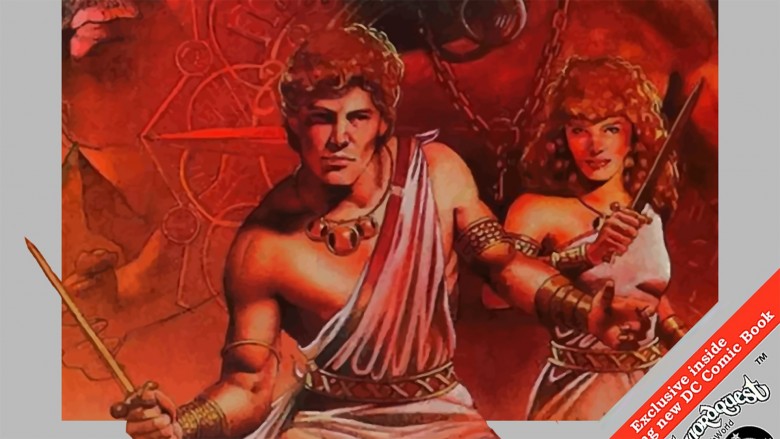 It's probably been a while since anyone has played Swordquest—the third and final entry in Atari's planned-but-never-completed tetralogy came out way back in 1983—but the series is getting a second life thanks to Dynamite Entertainment, the company behind comics like The Boys, Project Superpowers, and Red Sonja. Bleeding Cool reports that Dynamite and Atari have agreed to bring some of Atari's classic games back as a series of comics, with a new—and very meta—spin on Swordquest leading the charge.
The Swordquest comic isn't a straight adaptation, however, and in order to understand Swordquest's premise, you'll need to know a little bit about the series' history. Originally, Atari conceived of Swordquest as a multi-part competition, in which players who mastered all four Swordquest games could compete to win a $50,000 sword. Atari also intended to hold competitions centered on each individual Swordquest game, giving out $25,000 jewel-encrusted trophies as prizes.
Advertisement
Things didn't go according to plan. While the first two Swordquest games, Earthworld and Fireworld, and their respective competitions launched on schedule, the third title, Waterworld, received a very limited release. Airworld, the fourth and final game, never came out at all. As a result, the grand finals never happened, and that $50,000 sword went unclaimed.
Dynamite's upcoming Swordquest comic stars Peter Case, a former Swordquest fan who was burned when Airworld was cancelled. Now, 35 years later, Peter needs some extra cash to pay the bills, and he thinks that  Swordquest's lost prizes might be the answer. The comic will be written by Chad Bowers and Chris Sims (X-Men '92), with art by Scott Kowalchuk (Batman '66).
Advertisement
This won't be Swordquest's first comic book adaptation, either. The original games shipped with comics by industry vets Roy Thomas, Gerry Conway, George Perez, and Dick Giordano, and actually played a key role in Swordquest's competitive scene. Completing puzzles in-game pointed players to specific panels in the pack-in comics, which contained hidden words that players submitted to Atari as proof that they'd solved the puzzles correctly.
Even though Swordquest never reached its intended conclusion, it's a neat idea—even after three decades, Swordquest remains one of the coolest ways in which video games have infiltrated real life—and it'll be interesting to see how the new comic plays with the series' unique history, as well as which other games Atari and Dynamite decide to revive using paper and ink.