Bethesda Studios Director Is A Huge Fan Of Overwatch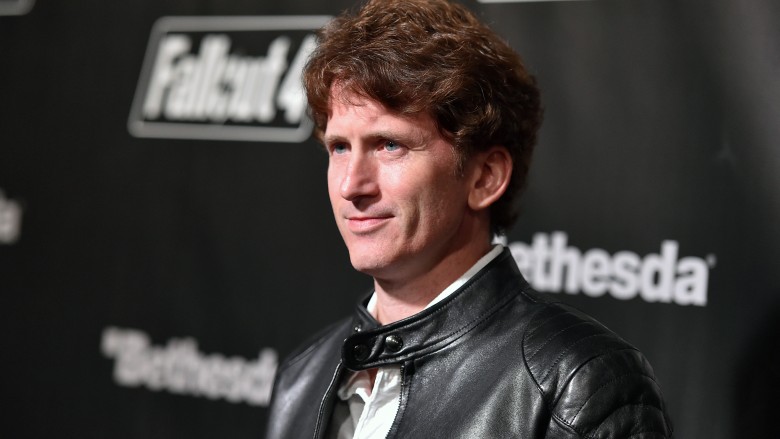 Getty Images
With hero updates rolling out on the regular; the possible inclusion of an all-new, never-before-seen character; and a ton (we're talkin' 25 million and counting) of dedicated fans that make up an inclusive and eclectic gaming community, and it seems like Blizzard Entertainment's team-based shooter has it all. Tack on Bethesda Game Studios director Todd Howard as one of those loyal players and Overwatch's creative clout and magnetism is pretty undeniable.
In an interview with GameSpot, Howard revealed that he packs in a lot playtime capturing the objective and escorting the payload in the game that picked up 2016's Game of the Year Award. What's arguably most notable about Howard's discussion on Overwatch are his comments on the title's story, as he himself has nearly two decades' worth of experience in crafting compelling game narratives and steering them toward success.
"I play a lot of Overwatch. I think it's a phenomenal game. That's an interesting one. I think Blizzard has done a masterful job with how they've given you the characters in this world that you love through their short videos and in the game," Howard stated. "Overwatch is a game [that] shouldn't have a good story. But it does. And it's very compelling."
Howard then touched upon Fallout 4, the 2015 Bethesda Game Studios release for which he served as director. In particular, he chatted a bit about the virtual reality version of the game, which is "one of the seven projects that Bethesda Game Studios currently has in development." Howard explained in more detail what's in store for Fallout 4's VR and what the experience developing it has been like:
"It's been incredibly exciting. The challenges have more to do with how you move through the world. What we're doing right now is we've taken the entirety of Fallout 4 into VR and there is still work to do. But the promise of that, the 'Okay, I'm standing in this vast world and I can go do what I want.' It really is— when it's working well, it's one of the most incredible experiences I've had in a game."
Howard's chat with GameSpot comes just a few days before he is to be inducted into the Academy of Interactive Arts & Sciences Hall of Fame, an honor bestowed upon him for his long (and absolutely incredible) career in the games industry following his receipt of the organization's Lifetime Achievement in 2016. Since the mid-1990s, Howard has worked as a designer and project lead with Bethesda Game Studios on countless knockout titles like The Terminator: Future Shock (which was his very first Bethesda credit), The Elder Scrolls II: Daggerfall, The Elder Scrolls Adventures: Redguard, The Elder Scrolls III: Morrowind, and The Elder Scrolls IV: Oblivion. What many know him for, however, is his recent role as director of the fifth installment in the Elder Scrolls series, Skyrim.
Given his substantial background and influence in the games world, something tells us Blizzard and the whole Overwatch team will be equal parts flattered, humbled, and thankful to have a fan in Todd Howard. If you've yet to take the title for a spin yourself, be sure to read up on what not to do in Overwatch before you get started.