Mass Effect Gets Dirty With Cards Against Humanity Pack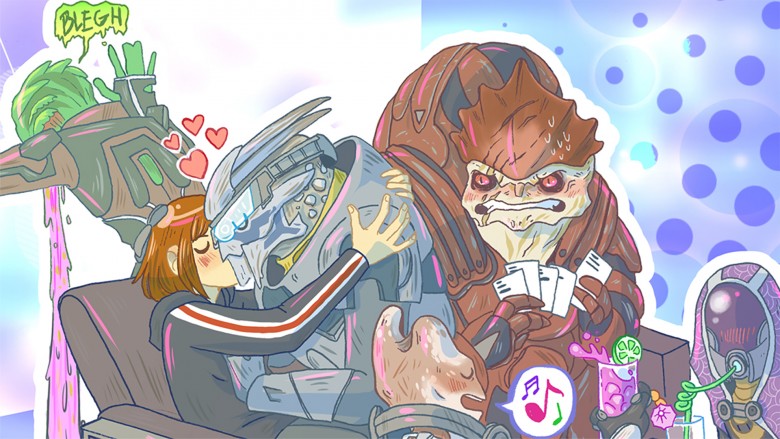 Mass Effect, the series that Fox News once described as "Luke Skywalker meets Debbie Does Dallas," is getting a decidedly NSFW tie-in today in the form of a 14-card add-on for the popular party game Cards Against Humanity.
Fans can buy the Cards Against Humanity Mass Effect Pack on the expansion's official site (which has a URL that we can't print here) for $1, but act fast—the new set is a limited edition release, and it won't be reprinted after supplies run out.
Advertisement
Some of the new cards, which combine Cards Against Humanity's patented off-color humor with concepts from the Mass Effect series, have already been revealed on Cards Against Humanity's official Twitter page, and include gems like "Space racism," "My complicated backstory that you will soon learn about," and other, more unsavory phrases.
While talking to Polygon, Cards Against Humanity's director of events, Trin Garritano, said that the CAH team came up with over 700 Mass Effect-themed cards, but that "all but 14 of them were bad." Allegedly, BioWare's staff didn't help much with paring that number down: every single one of the developer's approvals were sex-based (after all, bumping uglies has always played a big part in Mass Effect's sci-fi storylines). Garritano says, "We had to push through a few non-sex cards just to widen the appeal of the deck. It was an incredible problem to have and I am still absolutely tickled by this."
Advertisement
The Mass Effect Pack's website claims that Cards Against Humanity accepted the project in order to get an early peek at the next Mass Effect game, Mass Effect Andromeda, which comes out on March 21, 2017. It didn't work, which is bad news for the people over at CAH, but ensures that the Mass Effect Pack will be free of Andromeda spoilers. If you haven't played the other Mass Effect games, however, watch out—Mass Effect 3's confusing and controversial ending is particularly ripe material for satire, and it wouldn't be a huge surprise if the Mass Effect Pack ruined some of the first trilogy's biggest twists and turns.