Dr Disrespect May Be Moving To A Very Different IRL Game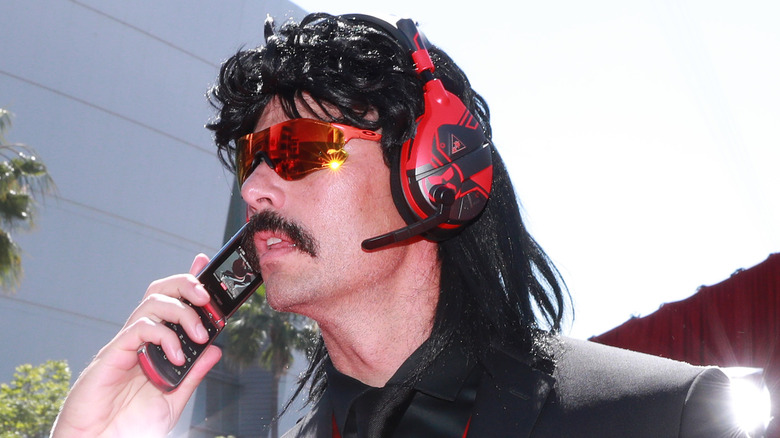 Rich Fury/Getty Images
While playing video games for a living sounds like a dream career, it's more demanding than you might think. No matter how much you enjoy something, it can wear on you when it becomes a job you're expected to perform regularly. What happens when a professional gamer wants to hang up their headset for a bit and get out in the sun? Dr Disrespect may have a surprising answer to that very question. The streamer recently revealed the he is considering a special stream to change things up a bit.
In a recent broadcast, before setting out to play "Call of Duty: Warzone," "PUBG," and "Apex Legends," the Doc was asked what he did the day before. Perhaps surprisingly, he responded, "I played 18 holes." He sat silently for a few moments, then revealed that hosting a golf stream has been on his mind. And not video game golf, but the real deal.
After putting it out there, he defended the idea by explaining how content creators weren't really exploring golf as a form of live entertainment. He then declared that the few who were doing it weren't going about it the right way, and that he knew how to make it work. The Doc proposed "a nice, organized, live-streamed golfing event." He closed the discussion by expressing how "easy" it would be.
Golfing his worries away
Is it possible that the Doc's future could be found on the golf course, or was this just a passing thought? Dr. Disrespect recently told fans that he was considering a break from streaming because he was growing tired of his gaming options. Of course, if you're familiar with his work, then you'll know the Doc has a proclivity for hyperbolic displays. He even went so far as to banish "Warzone" from his PC, only to re-download it.
Perhaps moving away from battle royales and stepping out onto the green is just what he needs to reset his streaming schedule. Not only would this offer something fresh and new for his audience, but it could rejuvenate him so that he'd no longer be tired of his usual games. Then again, it may be the edge in his attitude that keeps fans coming back for more.
Whatever the case may be, audiences would probably be at least curious to see what a Dr. Disrespect golf stream would look like. He could bring that same high-energy intensity to the sport, or perhaps viewers would get to witness a persona that's closer to the guy he was like before the fame.