Horizon Zero Dawn Has An Awesome Death Stranding Easter Egg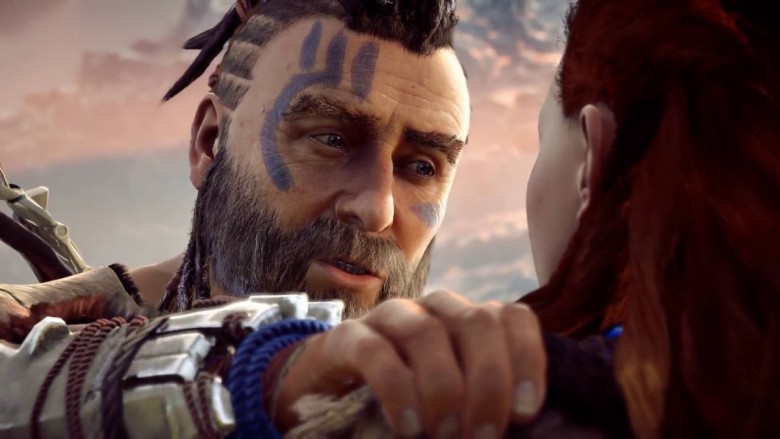 What do you get when you combine one highly-anticipated game that's on the brink of release with an equally-as-highly-anticipated title fans know admittedly little about? One incredible, sly crossover. According to reports from critics who had access to early review copies of the game, the forthcoming Horizon Zero Dawn has tucked inside it a cool Death Stranding Easter egg.
As reported by GamesRadar, when players are roaming about the post-apocalyptic world of Horizon Zero Dawn, the game's protagonist stumbles across an amulet that looks strikingly similar to Kojima Productions's (the studio behind Death Stranding) new logo. Users on the Italian site Game Legends made this exciting discovery, arguing that the artifact Aloy finds is a clear silhouette of Ludens, the official mascot for Kojima Productions. What's more is the description of the amulet, which makes a direct reference to Death Stranding's first official trailer.
Because the text in the source image posted by Game Legends is written entirely in Italian, only a rough translation of it can be provided. Reports have stated that the amulet's description is as follows in English:
"Abandoned Amulet (Very Rare). This object is valid only for the curious merchants. Six blocks of metal oxidized twisted from one cable. Sources: Special. Useful for: Exchanges with merchants."
Here's where the Easter egg cracks wide open: that necklace made of six blocks of metal, twisted together from one cable sounds exactly like what one of Death Stranding's protagonists was wearing (the only thing he was wearing) in the first trailer. Pretty fantastic, if you ask us! Take a look below:
While this Easter egg certainly doesn't reveal any additional information on Death Stranding, many have noted that the subtle nod by developer Guerrilla Games and the entire Horizon Zero Dawn team to Kojima Productions is a lovely one. Here's to hoping more details are unveiled about Death Stranding, one of the best games shown at last year's E3, in the near future.