This Massive Xbox Controller Is $350. Will You Buy It?
Turtle Beach has announced a massive new controller for Xbox Series X|S, Xbox One, and PC. While it certainly looks impressive, you may pause when you realize that it retails for an eye-watering $350. 
The VelocityOne Flight Universal Control System is meant to serve as an all in one solution for flight sim players. The system comes with a "realistic yoke" and "throttle quadrant," giving players one of the most immersive setups for a controller of this kind. While this control might not appeal to PC players too much — as there are plenty of options out there for flight sim fans — the number of console-compatible flight yokes out there is much lower. Plus, the trailer and store page for the VelocityOne make it clear that this controller is specifically meant to be used for "Microsoft Flight Simulator," which finally makes the jump to Xbox Series X|S on July 27.
As for the price, $350 is only $150 short of the retail price for the Xbox Series X and $50 more expensive than the Xbox Series S. It's also nearly six times the price of a standard Series X controller, so this flight rig is not for any casual players.
A controller for all your simulated flying needs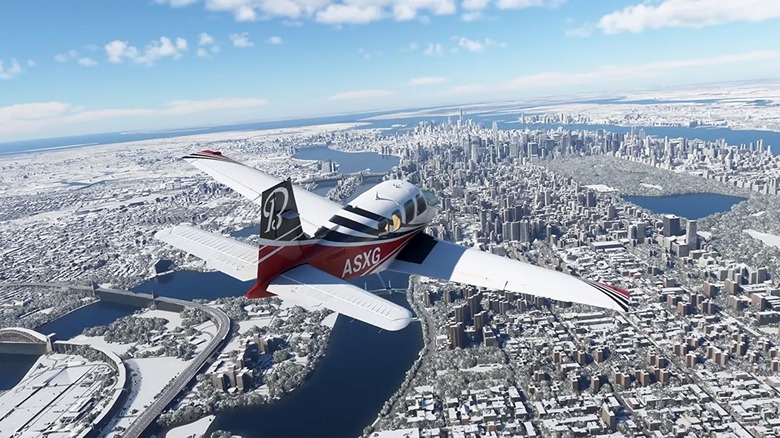 Let's break down exactly what Turtle Beach is offering for your hard earned money. The yoke has 180-degree movement, meant to provide accurate control over your plane. The throttle quadrant comes with four levers, which can be customized with different tops to match the aircraft you want to use. The throttle quadrant also has 10 customizable buttons, allowing you to include whatever controls match your needs. The panel of the controller offers alerts and system monitoring in real time (assuming the game supports it), along with customizable colors.
The VelocityOne also has its own file management system, allowing for different controller pre-sets to be saved and swapped between, depending on the aircraft currently being flown. The two sides of the yoke include the four triggers and bumpers, in addition to 18 other buttons, which can be re-mapped based on player needs. 
While the VelocityOne does have a crazy amount of features, there are a limited number of console games available for it. "Microsoft Flight Simulator" was one of the best PC games of 2020 and the first game in the series to come to consoles, but this controller might be a little too much for anyone who isn't hardcore about flying planes.