Epic's Battle Breakers Features Cross-Play Between PCs And Mobile Devices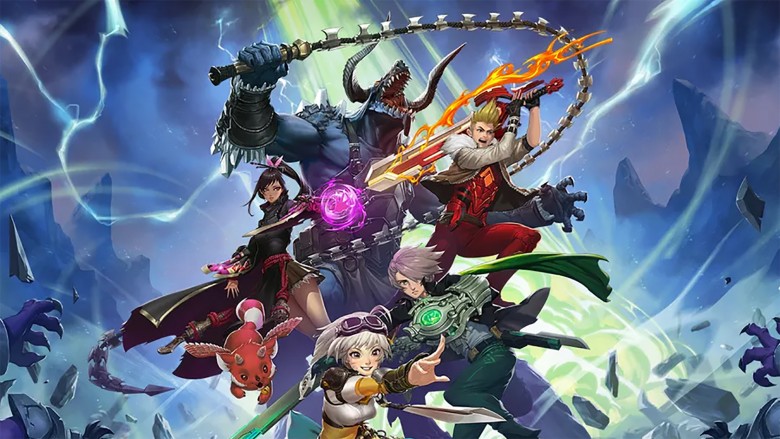 Battle Breakers, the latest game from the company behind Unreal, Paragon, and the original Gears of War, will support cross-platform play, allowing users on mobile devices to face off against players on Windows PCs, Epic Games said today.
Advertisement
Donald Mustard, Epic's worldwide creative director, describes Battle Breakers as a combination of "zany 80's Saturday morning cartoons" and tactical role-playing games like Final Fantasy Tactics, Invisible Inc., and the recently-released Fire Emblem Heroes. In Battle Breakers, players tap on crystals to unlock both treasures and enemies, and then battle their enemies using an 100-member cast of colorful characters that includes ninjas, robots, and dinosaurs.
Each character is associated with one of five elements, which determines a character's strengths and its weaknesses in a rock-paper-scissors-like battle system. The different elements also look like they'll dictate how each character fights, too—the launch trailer shows characters fighting by unleashing elemental attacks like earthquakes and tsunamis on their foes.
Advertisement
Battle Breakers doesn't currently have a release date, but it's currently available on the Philippines' iOS store if anyone wants to check the game out early. The current edition of Battle Breakers is a work-in-progress, however, and that the game will probably change quite a bit between now and its official release on iOS, Android, and Windows machines. Apparently, players will be able to both compete against one another and team up for some type of cooperative play.
Players who pre-register for Battle Breakers' Android edition on the Google App store will receive a special "Dark Beastman" character when the game launches.
Battle Breakers isn't the first game to support mobile-to-PC competition, of course. Blizzard's mega-hit card game (and one of the best free-to-play games of all time), Hearthstone, features cross-play, too.