The Real Reason This $13.4 Million Yu-Gi-Oh! Card Was Pulled
Even if you know next to nothing about Yu-Gi-Oh!, you may have heard the name Blue-Eyes White Dragon. As one of the most popular cards in the trading card game, anime, and manga franchise, it's been printed multiple times. Oddly enough, one of these cards was just pulled from an auction after the bidding went over $13 million.
According to a report from Kotaku, the auction in question was responsible for selling off items after a man in China received a life sentence in prison for embezzling $11 million in government money. Among the high-value items being sold was a custom PS4 featuring gold and diamond inlays.
The Blue-Eyes White Dragon card in his possession came from the 20th Anniversary Gold collection that ran in 2018. There were only 500 cards printed at that time, making this edition a pretty rare find. However, when the price started soaring in the tens of millions, the auction was quickly shut down.
The bidding site took down the card due to the possibility of "malicious bidding behavior" according to the South China Morning Post. Not only that, but the bidding site mentioned that legal action may be taken in the case of wrongful bidding. 
As it turns out, there were several reasons to be skeptical of this sale — and not just because of the rising cost. 
The Yu-Gi-Oh! card might not even be real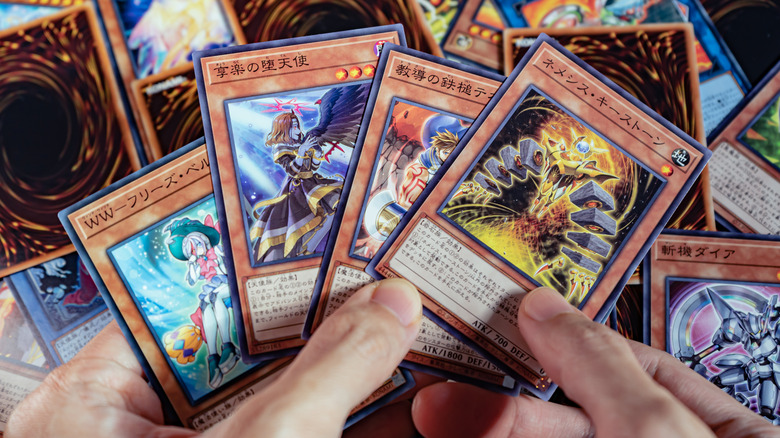 Shutterstock
According to the South China Morning Post, this specific Blue-Eyes White Dragon card is, at most, worth about $46,000. It's truly bizarre that the bidding for this item skyrocketed, especially since the card has not been verified as a real copy by any professional grading service (per Kotaku).
Generally, when high-value cards sell, they're verified to be real and given a grade. For instance, Professional Sports Authenticator, Inc. is one of the major groups that verifies and rates the physical condition of collectible items, including Yu-Gi-Oh! and Pokemon cards. While the card can be verified after it's bought, that's a pretty tricky proposition. That makes it even more suspicious that the prices rose as quickly and as high as they did.
While no one's been charged for any kind of wrongful behavior in the bidding yet, the investigation is still ongoing. That's not all, either — the South China Morning Post also reported that the same criminal has another asset that was frozen because of what appears to be malicious bidding. A USB drive rumored to have bitcoin information on it was also taken down after passing $77,000. In other words, there may be more than one bogus or illegal item driving up the bidding in this auction.