Mass Effect: Andromeda Producer Gives The Game A Raunchy Description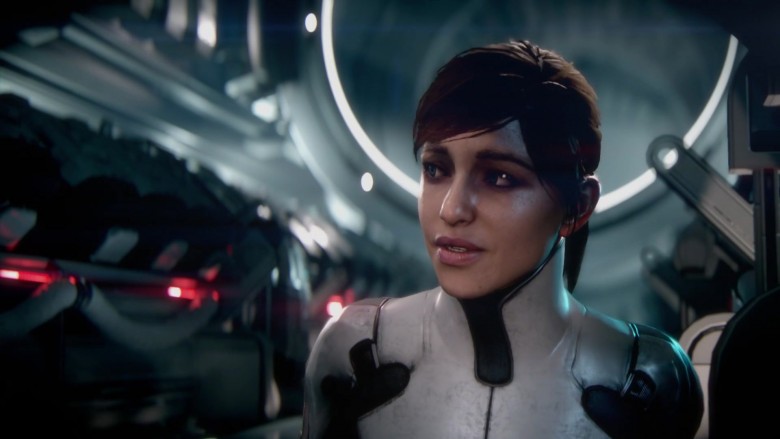 "Sexy" isn't necessarily the first adjective one would jump to when thinking of ways to describe a video game, but the forthcoming sci-fi RPG title Mass Effect: Andromeda may very well change all that. BioWare general manager Aaryn Flynn boldly stated on Twitter that the game is far raunchier than anyone expected: it's "totally softcore space porn."
This remark, which has since been re-addressed by Flynn as a slightly off-hand but completely tongue-in-cheek satirical statement, follows just a few weeks after the confirmation that Andromeda would incorporate romance options, which could easily lead to a few provocative sex scenes. This fact sent Mass Effect fans and executives (like producer Mike Gamble) into a bit of a comedy frenzy, as they took lighthearted jabs to claim that the game was all about "banging."
Though Mass Effect: Andromeda has yet to get its public Entertainment Software Rating Board (ESRB) rating, a handful of players have done some digging and uncovered an early assessment that stamped the game with an M rating for "blood, partial nudity, strong language, strong sexual content and violence" (via VG247.com). This sneaky discovery was partially correct, but some flip-flopping has occurred in the ratings content descriptors, which many view as the reason why the game's rating hasn't gone public yet.
Flynn himself acknowledged this, stating that Andromeda was bumped up from "partial nudity" to "full nudity." You can likely guess where this headed: back full circle to the risqué comment. While Flynn initially said he was definitely not joking about describing the game in such brash terms, he cleared the air when some people took it far too literally. Flynn apologized for giving an incorrect depiction of Andromeda. "Sorry, I gave the wrong impression," he said. "We have strong characters, great gameplay, romances, and more, all dealing with mature themes."
Even though some saw the "space porn" comment as a slight blunder, others chuckled at the joke right away. But either side you're on, it sure seems that Mass Effect: Andromeda will have no issue pulling in players for some interstellar adventures when it releases on March 21. Before then, be sure to check out this wild fan theory that may have you looking at the game totally differently when you get your hands on it.