The Zelda And Sonic Crossover You Never Knew Existed
Now that "The Legend of Zelda: Skyward Sword HD" has been released, critics have been poring over the big differences between the new remaster and the original version for the Wii. With all of the excitement surrounding Link's big motion-controlled adventure, it's time to talk about the original's crossover with a certain famous blue hedgehog. 
That's right; the "Super Smash Bros." series isn't the only time the two gaming icons have met up in a game. The two actually met in another, friendlier way.
In a "Zelda"-themed DLC for 2013's "Sonic Lost World," Sonic could visit Link and Loftwing through "a link to a lost world," as the trailer for the DLC called it. Given the phrasing in that trailer quote, you'd be forgiven for thinking that this crossover would tie directly into "The Legend of Zelda: A Link Between Worlds." However, Link and Loftwing meet Sonic in the skies while the player explores the level, making it pretty clear where and when the DLC took place. Here's how Sonic the Hedgehog crossed over with "Skyward Sword."
Sonic's take on the Zelda universe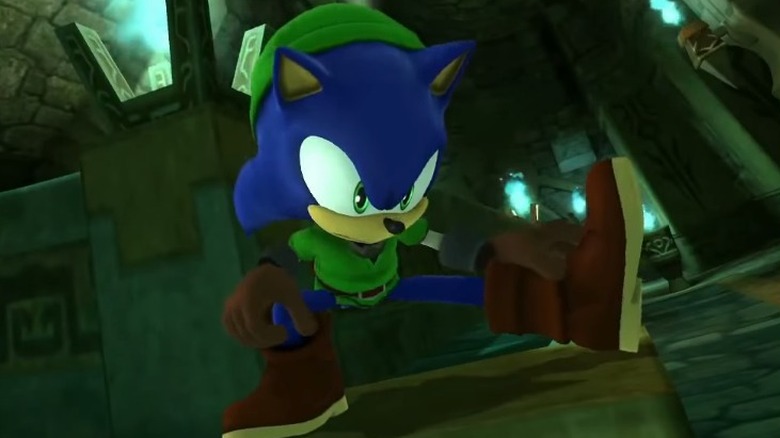 The DLC gives Sonic a chance to run through a zone based on the aesthetics and characters seen in "The Legend of Zelda" franchise. For instance, Sonic gets to try on Link's tunic in the DLC — and somehow the emerald green perfectly matches Sonic's royal blue color.
Instead of rings, players are chasing after rupees as iconic Zelda music plays in the background across two different settings. The level itself isn't very long, but it's extremely fun for fans of both series to pick out fun visuals and references. There are two special chests that give Sonic an extra health heart while he's battling his way through Link's turf, as well as some very "Zelda"-esque puzzles and classic enemies.
Only time will tell if Sonic and the Hero of Time will ever cross paths again. Maybe "Sonic Colors: Ultimate" will feature more DLC and new places for the hedgehog to travel. Fans would surely get a kick out of seeing the two "Super Smash Bros." mainstays teaming up again.