This App Could Save Streamers From Copystrikes
Streamers struggle to provide interesting, trendy content to their viewers, and DMCA laws make that task even more complicated. Streamers have been furious with DMCA bans on Twitch for a while now, with Twitch partners like Lirik slamming the platform for occasionally enforcing suspensions without proper explanation. The system doesn't always work, and Twitch has banned its own placeholder music before, seemingly confused at its own rules. Now, one developer is seeking to solve the pervasive DMCA issues by taking copyrighted music out of Twitch streams and directly into users' headphones.
TorrentFreak reported that developer and streamer Peter Frydenlund Madsen (who goes by Pequeno0 online) has developed software that helps streamers avoid copyright infringement and the inevitable DMCA strikes that go with it. Madsen's Twitch extension, Spotify Synchronizer, allows users to sync their Spotify accounts with the streamers'.
With Spotify accounts aligned, viewers can listen along with their favorite streamers without worry of copyright strikes. The Twitch extension negates the need for music to be broadcasted via Twitch stream, meaning that streamers aren't in danger of violating any laws. Both parties use their own Spotify accounts to listen to music, separately but together.
Not perfect, but a step in the right direction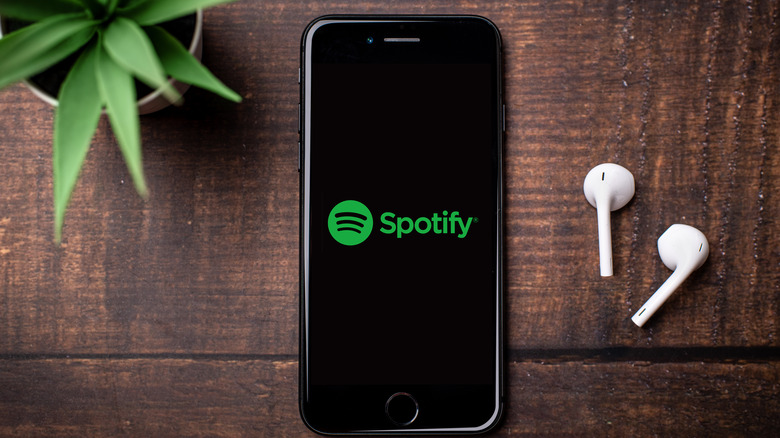 Shutterstock
Madsen told TorrentFreak that coding the extension provided specific challenges. "I had to make a popup, and figure out how to send back the results of this popup to the extension to get the token to use for Spotify. This might be changed in the future to a better system to support more platforms," he said. Madsen brought up one issue some users have with Spotify Synchronizer: its limitation to one platform. For viewers using other music streaming software, like Apple Music, there's no comparable option to sync playlists.
However, there's always a workaround, and Spotify Synchronizer is still in its infancy. "If the extension gets very popular, it could be extended to use even more services," Madsen said.
Some Twitch viewers say that the extension doesn't sound reasonable. One software developer critiqued the app by tweeting, "Synchronization also sounds like a nightmare and just not worth the effort." However, music plays a big role in some streamers' overall aesthetic, and viewers are always curious what sort of music gets their favorite entertainers in the zone. 
It's unclear how Spotify Synchronizer will evolve in the future, or if Madsen will continue working on the project, but its existence shows that streamers are actively looking for workarounds to DMCA bans.