Will The Anacrusis Release On Xbox One?
If you're into the idea of working together with your friends to battle aliens in a game that's different every time you pick it up, "The Anacrusis" may be right up your alley.
According to the announcement post from Xbox, "'The Anacrusis' is an infinitely-replayable, four-player, co-op first-person shooter." This title is the first from developer and publisher Stray Bombay, self-described on its website as "a small team making a big game." The past two years have been filled with "prototypes and playtests," which have proven the small team's efforts to be successful. The official announcement trailer for "The Anacrusis" dropped June 10, 2021.
As the trailer reveals, survivors Nessa, Guion, Liu, and Lance are the stars of the game's inaugural season. They're "unlikely heroes" charged with protecting humanity by fighting aliens and finding other survivors. One of the goals Stray Bombay has for "The Anacrusis" is creating a "social space," as well as an exciting gaming experience. Speaking of space, Stray Bombay promises that you can also look forward to nostalgic "campy sci-fi" vibes, though the main goal of the game is shooting aliens.
Next-gen fans are already expecting to play "The Anacrusis," but you may be wondering if you can fire it up on the Xbox One any time soon. After all, not everyone wants to spring for the far-from-perfect Series X|S consoles.
Will The Anacrusis release on Xbox One?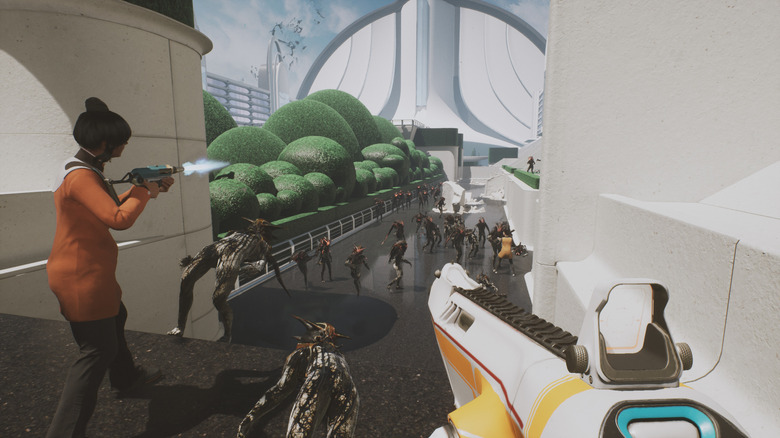 So, will you be able to play "The Anacrusis" on your Xbox One? The answer is yes. The game will be available on Xbox Series X|S, Xbox One, and PC sometime during Fall 2021. In addition, Xbox Game Pass users can access the game on the day of its release.
Now that you know you can play "The Anacrusis" on your Xbox One, you're probably wondering if you will be able to play with your next-gen friends. The answer, yet again, is yes. According to Stray Bombay (via the game's official website), "The Anacrusis is designed to be a social-first game. We support cross-play from day one so you can play with your friends wherever they are." Now, Xbox players can fully embrace the hype. 
Plus, "The Anacrusis" goes further than other multiplayer games by "removing competitive elements that discourage teamplay and designing everything from the perk system to the boss aliens to encourage cooperative play," according to Stray Bombay. Xbox One gamers can look forward to the co-op madness this fall.