Horizon Forbidden West Fans Just Got Bad News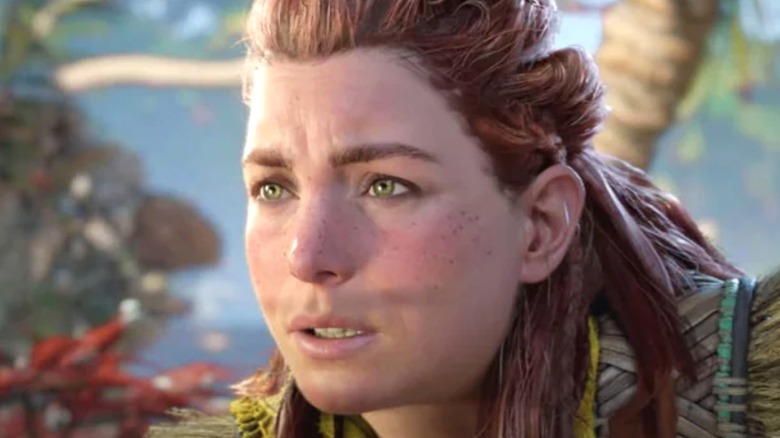 While some "Horizon Forbidden West" fans were upset because of Aloy's looks last month, other fans have been patiently waiting for news on the release date of the game. Unfortunately, the future looks grim, as a couple of industry insiders have shared news no one likes to hear: The game might just be pushed back until 2022.
Advertisement
According to VCG, Jeff Grubb, popular gaming industry insider, predicted that Sony's State of Play in September will share the unfortunate news. Grubb said, as recorded by VCG, "I don't know for sure, I think it's still undecided, but I think it's leaning towards 'Horizon Forbidden West' in 2022."
Grubbs wasn't the only one to talk about this — an unnamed source also told Bloomberg the same thing, according to one of the publication's reporters, Jason Schreier. As Schreier describes the question of whether to push the game back or not, it's "decided and delayed." This is different from Grubb's report that PlayStation was probably going to delay the game but hadn't officially decided to.
This news didn't come out of thin air. Just last month, fans were worried about "Horizon Forbidden West" because the head of PlayStation Studios mentioned that there were some COVID-19-related issues that impacted the game's development.
Advertisement
Fans weren't too upset about the news
This news is pretty bad for "Horizon Forbidden West" fans, but there is a bright side — quality isn't being sacrificed for an earlier release date. The game has just been added to the list of titles that had to be pushed back because of the coronavirus pandemic.
Advertisement
At this stage of the pandemic, most people aren't too upset about the news. People mentioned that a delayed game is better than seeing another "Cyberpunk 2077" disaster. In fact, one Twitter user was particularly patient about the news, telling developers to "take their time" and "stay safe, stay healthy."
Another Twitter user pointed out that "Horizon Forbidden West" being pushed back opens up the door for the game to be released the same week as "Breath of the Wild 2" — just like back when "Breath of the Wild" and "Horizon Zero Dawn" were released.
While there's been no official word from PlayStation, the chances of seeing "Horizon Forbidden West" soon look pretty slim. According to PSU, Jeff Grubbs mentioned that the next Sony State of Play will be in September, and the news of the delayed game could drop then.
Advertisement