Guardians Of The Galaxy: The Telltale Series Screenshots And Voice Actors Revealed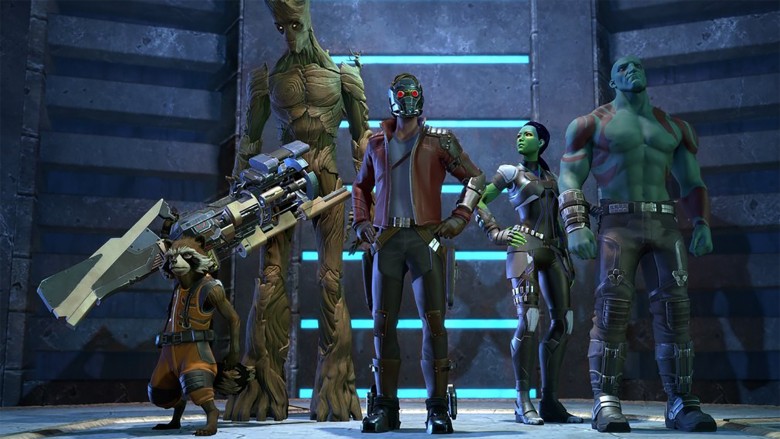 Can't wait for Marvel's Guardians of the Galaxy Vol. 2 to arrive this May? Here are some screenshots to tide you over. Earlier today, Telltale Games posted a handful of stills from its upcoming Guardians of the Galaxy adventure on Twitter, and it looks like Telltale is going to be following the Guardians feature films very, very closely.
For the most part, Telltale's Guardians look a lot like their cinematic counterparts, although there are a few small differences. For one, Guardians of the Galaxy: The Telltale Series stars a fully-grown Groot, not the mischievous baby Groot featured in Guardians of the Galaxy Vol. 2's trailers. Gamora's outfit resembles her armored comic book costume, not her leather get-up from the films, while Guardians Mantis and Yondu are nowhere to be found.
Advertisement
While the cast might look familiar, Guardians of the Galaxy: The Telltale Series' voice actors are all new. According to IGN, Scott Porter—better known as Friday Night Lights' Jason Street—will play the team's leader, Star-Lord, while Emily O'Brien, a Final Fantasy veteran, will voice Gamora. Rocket Raccoon will be played by Nathan Drake himself, Nolan North, while Brandon Paul Eells and Adam Harrington will voice Drax and Groot, respectively.
In a prepared statement, Telltale CEO Kevin Bruner says that Guardians of the Galaxy's "energizing blend of humor, emotion, teamwork, and full-on sci-fi action-adventure" is a perfect fit for Telltale's brand of character-focused storytelling, and that Guardians fans can look forward to taking "on multiple roles within the ragtag band of heroes, and take the pilot's seat in directing their escapades around the universe."
Advertisement
Guardians of the Galaxy: The Telltale Series doesn't have a street date yet, but given that the next Guardians movie hits on May 5, 2017, a spring release seems pretty likely. In the meantime, get yourself ready by catching up on these Guardians of the Galaxy facts that you probably didn't know, even if you're super-fans like we are.