Super Mario Bros. Movie Casts This Irishman Star As A Long Lost Character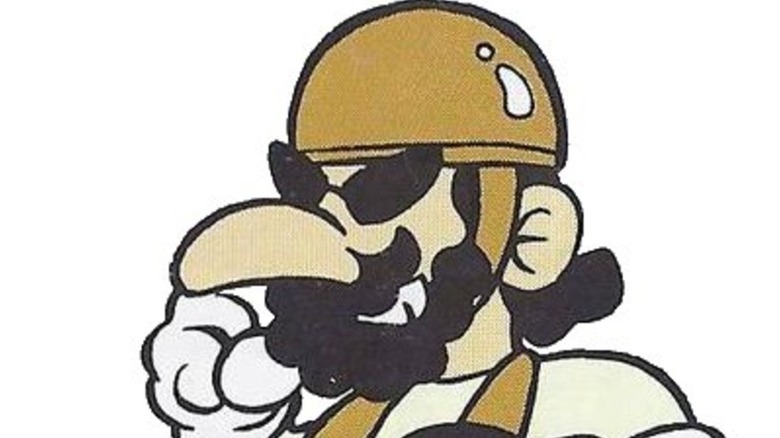 A few years ago, Nintendo announced that it was teaming up with Illumination Entertainment to bring its famous plumber to the silver screen once again. Ever since the initial reveal that an animated Mario movie was in the works, very little information has been shared about it — until now. 
On a recent episode of Bert Kreischer's podcast, Bertcast, actor Sebastian Maniscalco casually mentioned that he is in the "Super Mario Bros." animated movie as Spike, who is Mario and Luigi's boss in this version of the story. Kriescher asked, "for real?" Sadly for fans wanting more info, that was basically the end of the conversation.
This is the first person that has been confirmed to be cast in the "Super Mario Bros." animated film, which is supposedly set to debut sometime in 2022. Maniscalco's character, Spike, may actually give a few hints at the setting of the film. Foreman Spike is a deep cut villain, appearing in the 1985 game "Wrecking Crew," and the Japan-only release "Wrecking Crew '98." In these games Spike is a construction worker, focused on destroying the Mario brothers' job site. He appears occasionally as a quick cameo in some other Mario titles, but overall he one of the many Mario characters who mysteriously disappeared over the years. 
Spike's inclusion in the movie might mean that Mario and Luigi will work on a construction site at some point in the film, perhaps before their real adventure kicks off.
What we know about the animated Super Mario Bros. movie
Maniscalco is not only the sole confirmed actor to be in the film, but he's one of only a few confirmed people working on the movie, period. In an interview with Variety, Illumination Entertainment founder Chris Meledandri was confirmed to be producing the film alongside Shigeru Miyamoto. Beyond that, the "Super Mario Bros." movie has been kept mostly a secret. It isn't even known if Mario is going to speak in full sentences during the movie, or if he'll just do his usual yips and yells.
As for Maniscalco, he is best known for starring in movies like "Green Book," "Tag," and the Martin Scorsese epic "The Irishman," in which he stole multiple scenes. It's safe to assume that the animated "Super Mario Bros." movie will avoid having any similarities to 1993's disastrous "Super Mario Bros." movie starring Bob Hoskins and John Leguizamo. Sitting at a 35 on Metacritic, that movie is considered a complete failure and one of the worst video game adaptations ever made. Hopefully this movie will right the wrongs of the previous film — and maybe Maniscalco will slip some more details to fans concerning the long-awaited adaptation.