Drawn To Death Will Be Free For PlayStation Plus Subscribers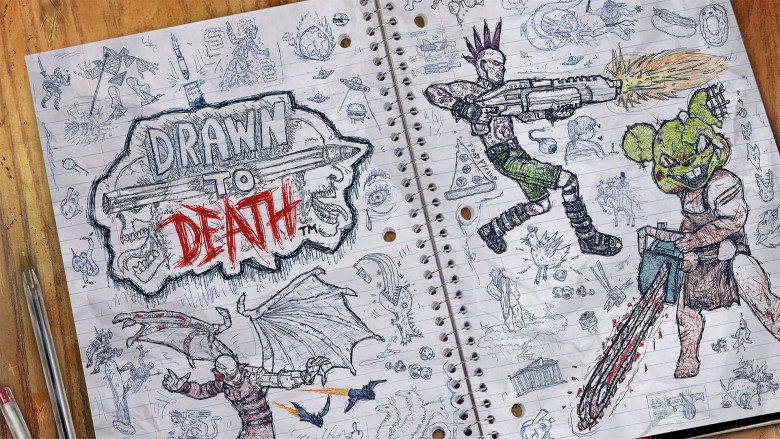 If you're not sure about Drawn to Death, God of War creator David Jaffe's over-the-top, ultra-stylized multiplayer game, there's some good news: the game will be free for PlayStation Plus subscribers when it launches on April 4.
Jaffe describes Drawn to Death as a "a third-person shooter/brawler that takes place entirely inside the pages of a high school kid's notebook." Assuming the roles of characters like a sword-wielding shark called Ninjaw or a demonic cowgirl named Diabla Tijuana, Drawn to Death players will battle it out in a series of fast-paced, competitive online matches in arenas with names like "Alientown" and "Bloodbath."
Advertisement
In the official release announcement, Jaffe notes that, as a multiplayer-only title, Drawn to Death, needs a strong community in order to survive. Making Drawn to Death free at launch, even if it's only for PS Plus members, will go a long way towards helping Jaffe's The Bartlet Jones Supernatural Detective Agency create just that. Rocket League launched as a free PS Plus title back in 2015 and racked up five million downloads in its first month, establishing a vast and dedicated user base that's helped the game maintain its momentum in the following months (while also providing a receptive audience for Psyonix's premium downloadable content).
Alongside the launch date announcement, Sony also released a short behind-the-scenes video in which Jaffe discusses some of Drawn to Death's deeper features. Jaffe says that the game is entirely skill-based—you won't be able to get an edge by grinding for gear or levels—and that the small, four-player matches are designed to make people really observe and engage with their opponents.
Advertisement
In addition to the base characters and maps, Drawn to Death will launch with a few extra, previously unannounced features. Sphinx Riddles, which are "battle-focused," will unlock new weapons and new maps. Every launch character will have 15 personal missions, which unlock new taunts, while players will earn Mystery Boxes after every 150 kills. Ranked matches will send players up the "Dark Fairy Tales"-themed Drawn to Death launch tower, gifting them special stickers along the way, while a promised "Insane Mystery Special Offer" should be, well, insane.
PlayStation Plus is Sony's exclusive digital network, which gives PlayStation 4 owners access to online multiplayer, free games, and a number of other benefits. It costs $10 a month, or $60 a year—not a bad deal, considering that Drawn to Death will retail for $19.99 on its own for non-PS Plus subscribers.