Mass Effect: Andromeda's Day One Patch Won't Fix Those Wonky Animations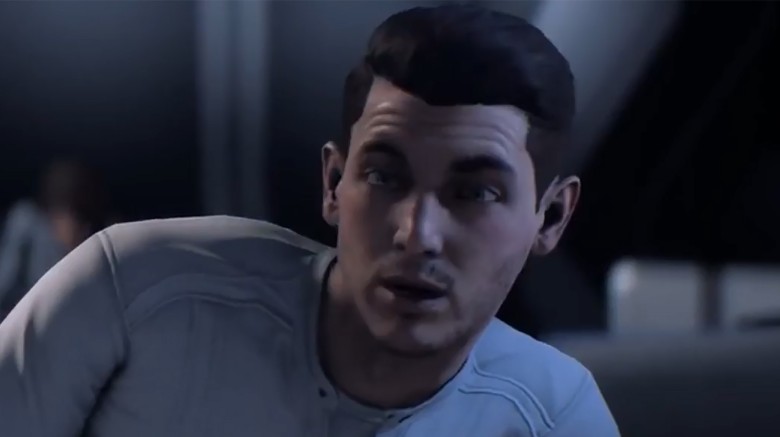 Maybe you're not aware, but Mass Effect: Andromeda is shaping up to be 2017's most terrifying game not called Resident Evil 7. Just a few days before the game's big launch, players who have gotten an early preview of the game via Electronic Arts' EA Access service have been flooding Twitter, Reddit, and other social networks with screenshots and videos of the game's unsettling, unpolished, and downright bizarre character animations—especially its heroes' bizarre faces, which The A.V. Club aptly describes as looking "like thick leather masks pulled taut over some sort of mechanical contraption."
Today, the developers at BioWare promised they'll look into fixing things, but don't expect Andromeda to get better right away. On Twitter, lead designer Ian Frazier said that Mass Effect: Andromeda will "have more patches later on," but as for a launch day fix, "that ship has sailed." In fact, people who are playing the game on EA Access already have the game's two-gigabyte day-one patch applied. For better or worse, the game they're playing now is what the rest of us will get next Tuesday.
Advertisement
Frazier didn't specifically say that the animation system will get an overhaul, but given that the creepy characters are pretty much all that anyone is talking about, it seems pretty likely. If so, it wouldn't be the first time that BioWare updated a Mass Effect game in response to fan criticism. In 2012, the developer updated the controversial ending of Mass Effect 3 to flesh out the fates of various characters, and to tie up some of the players' major decisions through a series of brief epilogues.
Still, the delay has to be disappointing for fans, given that the animation problems were evident as far back as December. Fans complained about the robotic expressions after a Mass Effect: Andromeda trailer played at The Game Awards. BioWare general manager Aaryn Flynn blamed a "facial performance bug" for the weird animations, and said that the BioWare team would "improve it." From the looks of things, that didn't happen.
Advertisement
Mass Effect: Andromeda comes out March 21 on PlayStation 4, Xbox One, and PC. It remains to be seen whether or not the facial tics will make it hard to engage with the epic storyline (which puts players in charge of finding a new home for the human race) or if, against all odds, the glitches actually make Andromeda better, as happened with these other games.