Play As A Zombie In Dead Rising 4: Frank Rising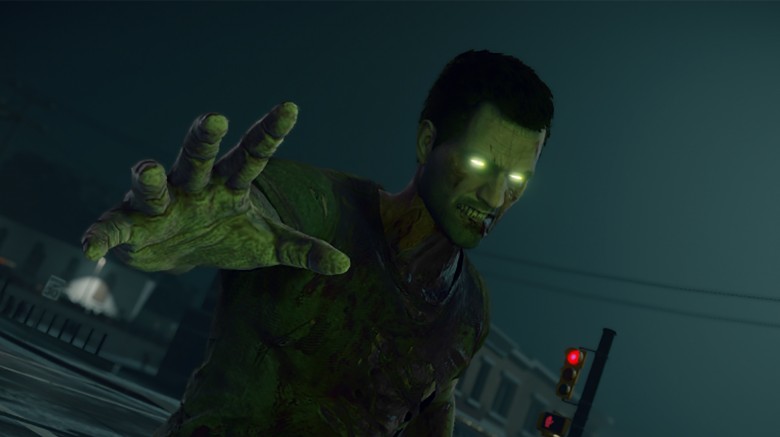 Over the years, Frank West has seen some pretty heavy stuff (he's covered wars, y'know), but nothing could possibly have prepared him for his latest adventure, in which the one-time photojournalist joins the ranks of the living dead.
If you haven't finished Dead Rising 4, suffice it to say that Frank doesn't make it to the end of the game looking so hot, but something as pesky as death isn't going to keep a good reporter down. In Dead Rising 4: Frank Rising, the game's upcoming downloadable content pack, players control Frank as he races across the town of Williamette in search of a cure for his zombification—and as eats hapless civilians along the way.
Advertisement
Frank Rising sees the return of Dead Rising's timer, which was an integral part of the first three Dead Rising games, but was removed in Dead Rising 4 in order to make the game more accessible. As Frank, players will have a limited amount of time to save some of Frank's loved ones, munch on others, and find a cure for Frank's ever-decaying condition before the US government decides to bomb Williamette into oblivion. Microsoft also promises that Frank West will develop "all-new abilities and strength" as he goes.
If that all sounds too serious for you, Capcom and Microsoft will release a second DLC pack, Super Ultra Dead Rising 4 Mini Golf, relatively soon. In Super Ultra Dead Rising 4 Mini Golf, you'll play through "multiple holes of pure wanton destruction," trying to keep your stroke count low while killing as many zombies as possible. Frank West will provide play-by-play commentary throughout the match, and winners will unlock special costumes and clubs.
Advertisement
Dead Rising 4: Frank Rising is due on April 4, 2017, while Super Ultra Dead Rising 4 Mini Golf has yet to receive a release date. Both DLC packs will cost $10 each, unless you've already purchased Dead Rising 4's $20 Season Pass, in which case you'll get both at no extra cost.
All in all, between Dead Rising 4 and Resident Evil's triumphant return, it's shaping up to be a pretty good year for zombie fans—now, if The Walking Dead could get its act together, we'd be pretty much set!