Guardians Of The Galaxy Vol. 2 Monopoly Game Coming Soon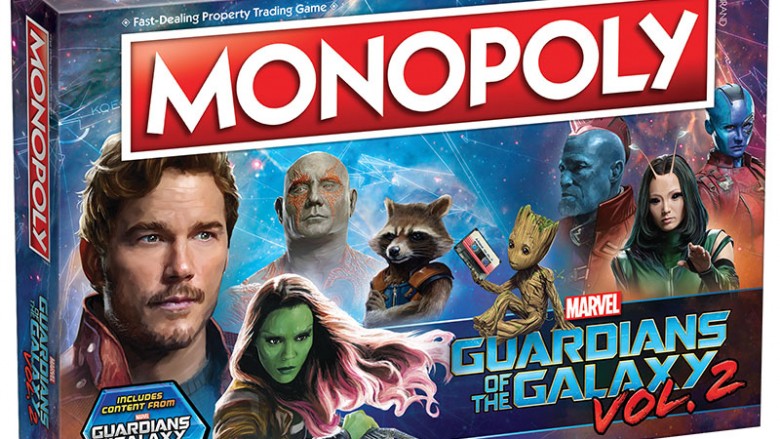 Hasbro/Marvel Entertainment
In the films, the Guardians of the Galaxy bring people together. But with the upcoming release of a Guardians of the Galaxy Vol. 2 edition of Monopoly, things could get a little heated when you can't choose who gets to be the banker and who gets to use the Baby Groot game piece.
We jest, of course. What's totally serious, however, is the latest board game from Hasbro and Marvel. The two companies have teamed up to bring classic tabletop title-lovers and fans of the quirky action-comedy something they can both enjoy with a special edition of Monopoly. Though the game has long been (jokingly) referred to as one that will "tear your family and friends apart," we've got a sneaking suspicion that the Guardians-themed version will be all fun.
Officially titled Monopoly: Guardians of the Galaxy Vol. 2, the game is set to include six new custom figural tokens: Star-Lord's mask, Baby Groot, Rocket's blaster, Mantis, Star-Lord's cassette player, and Gamora's sword. Though it's technically based on the sequel, Hasbro clarified that the custom board will feature characters from both the original movie and upcoming sequel.
Additionally, there are some Guardians-centric spins on the classic Monopoly terms as well. Rather than setting up property in houses and hotels, players grab "gear" and "equipment." The Community Chest and Chance decks get renamed as well, taking on the two films' soundtrack titles, "Awesome Mix Vol. 1" and "Awesome Mix Vol. 2," respectively. Even the in-game currency will be Guardians-themed, Hasbro states.
The game is "coming soon," but will only be available for purchase in the U.S. and Canada for $44.95. Here's the game's official summary: "The Guardians of the Galaxy Vol. 2 edition of Monopoly offers fans of the Marvel Cinematic Universe a unique gameplay adventure as they recruit characters from both films, collecting bounties and double-crossing their opponents while enjoying the classic table top experience of one of America's favorite board games."
The Guardians will undoubtedly look different in their Monopoly figurine forms, but they also differ quite a bit from their comic book counterparts. Check out how the Guardians of the Galaxy should really look.