Telltale's Guardians Of The Galaxy Get Tangled Up In Blue On April 18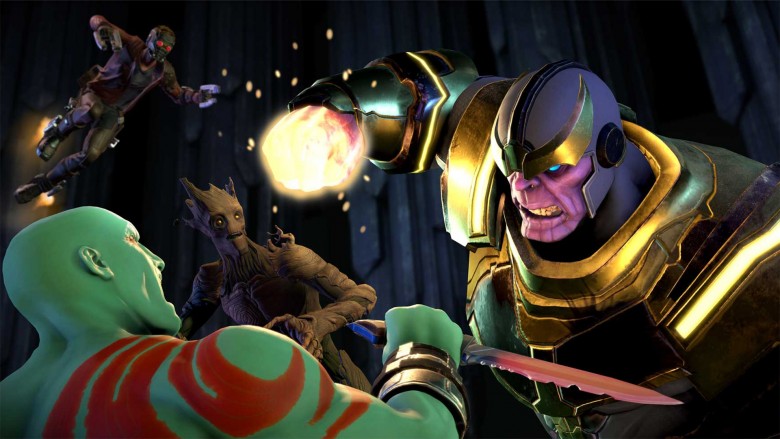 Telltale Games' Marvel's Guardians of the Galaxy makes its long-awaited debut on April 18, 2017, just about two weeks before the band of ragtag heroes returns to the silver screen in Guardians of the Galaxy Vol. 2.
The first episode in Telltale's take on Guardians is called "Tangled Up in Blue," and will cost $4.99 when it launches on PlayStation 4, Xbox One, Android, and iOS. If you prefer to get your games in hard copy, a special "Season Pass" disk will be sold at American retailers on May 2, and will hit the rest of the world on May 5, 2017—conveniently, the same day that the movie comes out.
No matter which platform you buy Guardians of the Galaxy on, you should get the same experience—which, if Telltale's past games are any indication (and they should be), will be a plot-heavy game full of branching dialogue options, story-changing dialogue options, and a healthy sense of humor. PlayStation 4 owners who pre-order Guardians of the Galaxy will also receive an exclusive Guardians theme that adds distant planets and a floating Walkman to their PS4's home screen.
As for Guardians of the Galaxy's story, well, Telltale games is still keeping specifics under wraps, although screenshots revealed alongside the release date announcement confirm that the Mad Titan Thanos, the first Guardians of the Galaxy film's big bad, will play a major role. A trailer coming this Thursday should give fans a little bit more information on what kind of story they can expect.
Telltale's Guardians of the Galaxy probably won't align perfectly with the movie or the comic versions of the team—as seen in Telltale's Batman series, the studio likes to do its own thing—but it should be close enough that reviewing these little known Guardians facts may not be a bad idea if you want to get everything you can out of the game. At the very least, it can't hurt.