Star Wars Battlefront 2's Title Confirmed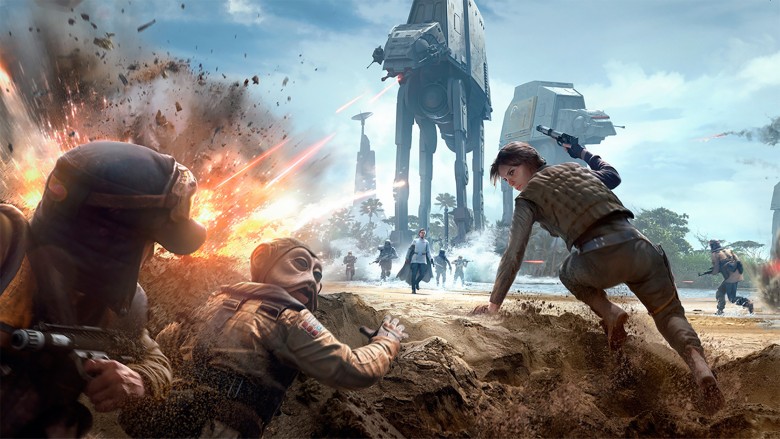 We knew it was coming, and now we know what it's called: the sequel to 2015's Star Wars Battlefront will be, appropriately enough, Star Wars Battlefront II, and will arrive later this year.
The announcement comes via Electronic Arts' official Star Wars page, which promises that more information about the multiplayer-based shooter will arrive soon—very, very soon, in fact. The game's first trailer will debut at this year's Star Wars Celebration, which takes place April 13 through April 16 at the Orange County Convention Center in Orlando, Florida. The panel, which is titled "The Galaxywide Premiere of Star Wars Battlefront II," will be held on April 15 at 2:30 P.M. EDT, and will stream online for anyone who can't make it to the Celebration in person.
Advertisement
In addition to the Star Wars Battlefront II's first trailer, developers and staff from DICE, the company behind the recent Battlefront reboots, will be on hand to discuss some of the next Star Wars game's new features and to share some behind-the-scenes anecdotes.
In an investors' call, Electronic Arts previously confirmed that the next Star Wars Battlefront game would arrive during the 2017 holiday season, right when hype for the next Star Wars movie, The Last Jedi, will be at its highest point. Unlike the most recent Battlefront game, Star Wars Battlefront II will have a story-based single-player campaign in addition to its massive multiplayer battles. 2015's Battlefront let up to 40 players duke it out at a time, but EA and DICE haven't said how big Battlefront II's firefights will be.
Advertisement
In addition, the next Battlefront entry will span "multiple eras" of Star Wars history. The previous game only covered Star Wars' Rebellion timeline, which was featured in the original Star Wars trilogy and last year's Rogue One: A Star Wars Story.
Single-player campaign aside, there are many, many things that fans want from Star Wars Battlefront II (hello, space battles), and it'll be interesting to see how many make their way into the final product—DICE previously said that it's listening to fan feedback from the first game (which received very mixed reactions), so there's always a chance. May the Force be with us.