Sega Teams Up With WWE For New Game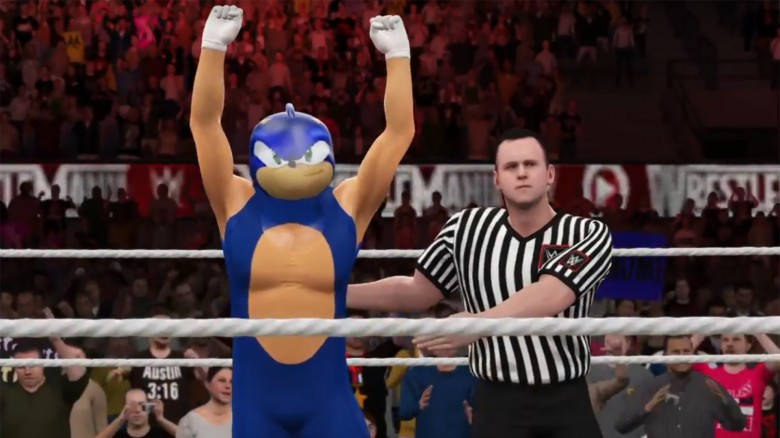 In this corner, you've got Sega, the venerated publisher behind Sonic the Hedgehog, NiGHTS into Dreams, and Bayonetta. In the other, there's World Wrestling Entertainment, home to John Cena, Brock Lesnar, Roman Reigns and (until last Sunday) the Undertaker. What happens when these two juggernauts meet? We're about to find out.
WWE announced via press release that it's teamed up with Sega to publish WWE Tap Mania, a free-to-play mobile game. WWE Tap Mania will be developed by The Tap Lab, the same company that made the clicker game PolitiCats and the Adventure Time spinoff BMO Snaps.
"At Sega, we like to find new ways to bring brands and experiences to a wide mobile gaming audience," said Naoki Kameda, chief operating officer of Sega's mobile division. "This partnership with WWE presents a fresh opportunity for collaboration."
WWE representatives feel similarly. Casey Collins, WWE's executive vice president of consumer products, said, "We are always looking to engage our global fan base in new and exciting ways.... Partnering with industry leader Sega is a great opportunity for us to continue our mobile game strategy while bringing in new fans with WWE Tap."
Despite both companies' enthusiasm, neither said anything about how WWE Tap Mania plays, although, given the title, a PolitiCats-style clicker wouldn't be too surprising. WWE's other mobile games tend to be wrestling-themed takes on popular genres. WWE Champions, for example, is a fairly traditional match 3 title, while WWE Immortals is a Mortal Kombat-esque fighting game.
Presumably, the collaboration won't affect the console-based WWE 2K series, which provides a deeper and more faithful wrestling experience than WWE's mobile titles. Although, given that wrestling is totally fake, it's hard to say that 2K Sports' competition-based games are realistic.
Oh, and by the way? WWE Tap Mania won't be the first Sega-WWE crossover. Thanks to the robust Create-A-Wrestler tool in WWE 2K, the series has featured a number of unlicensed cameos from popular Sega characters over the years, in addition to regular appearances from WWE's standard roster.