New Overwatch Comic Hints At Upcoming Event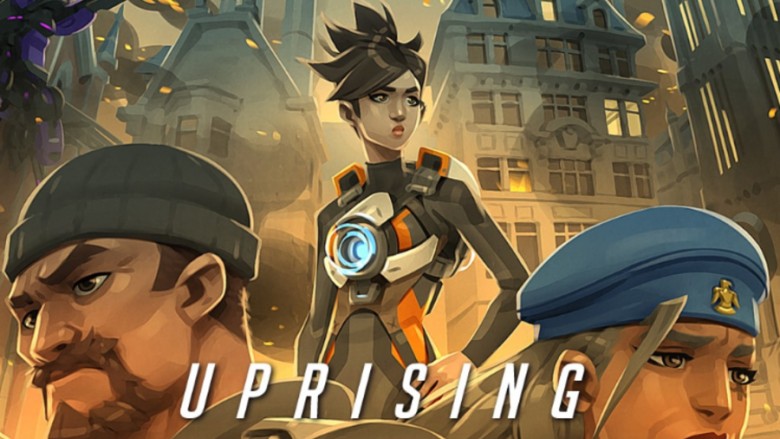 Blizzard Entertainment/Michael Chu, Gray Shuko
Blizzard Entertainment has released an all-new Overwatch comic entitled "Uprising," and it's jam-packed with lore details that tease a possible forthcoming event.
"Uprising" follows shortly after the unveiling of the last Overwatch comic, "Binary," which followed the unlikely friendship of the kind-hearted robo-hero Bastion and the Santa Claus-reminiscent Torbjorn.
Advertisement
The 12th comic published for the highly-praised shooter title, "Uprising" rewinds time a bit, taking fans back seven years before the events of the game. According to Blizzard and the Overwatch team, the issue encapsulates a key moment in the game's lore, depicting a "flashpoint in the conflict between omnics and humans."
In the comic's short synopsis, Blizzard explains more about the burgeoning battle: "On the eve of a historic peace accord, King's Row is seized by an extremist faction of robots known as Null Sector. The British government forbids Overwatch from interceding, which means Strike Commander Jack Morrison must decide whether to disobey orders or stand by while thousands of lives are in peril."
Advertisement
As with most Overwatch comics released in the past, "Uprising" also features additional insight on the history of certain characters. This time around, it's the bubbly British Offense hero Tracer who gets another moment in the spotlight. As the comic explains, the mission at the heart of "Uprising" is actually Tracer's first with the Overwatch team. Fans follow her journey from an ambitious cadet in training to a full-fledged hero duking it out on legitimate battlegrounds. Tracer was previously featured in the infamous "Reflections" issue that dished up details on her dating life, revealing she had a girlfriend.
Additionally, "Uprising" shows a fellow Offense hero pre-Overwatch fame. The Shuriken-slinging Genji is shown in his operative days with the game's black ops team, Blackwatch.
Check out the full version of the comic over on the official Overwatch website. If you're keen to see "Uprising" in action, take a look at the Madefire motion book version that features subtle artwork animations and background music. "Uprising" was written by Michael Chu, with art by Gray Shuko.
With the release of a new Overwatch comic come new Overwatch theories. Because both Tracer and King's Row are featured in "Uprising," many fans believe that the issue ties into an upcoming reveal. Recently, Blizzard hinted at an April 11 announcement that appears to have a direct link with the latest comic. The tease came in the form of a video, which stated the following: "Overwatch Mission Archives. File 00382 – King's Row Uprising. Entered into record seven years ago. Security clearance required: confidential." Though players could be on the right track with their speculation, only time will tell if they're actually correct.
Advertisement
While we wait for more information on Overwatch's upcoming uprising, take a look all the things you should avoid doing in the game.