Rick And Morty Virtual Reality Game Launches This Month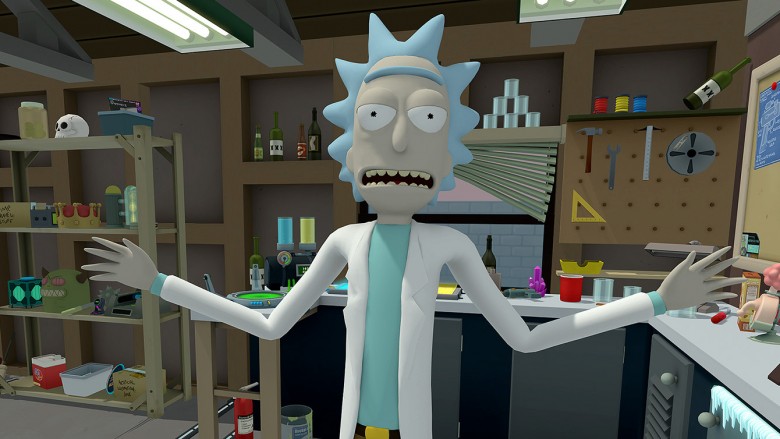 Owlchemy Labs' version of the wild, crazy, and gross world of Rick and Morty will launch on April 20. Nice.
Rick and Morty: Virtual Rick-ality puts Oculus Rift and HTC Vive owners in the head (literally) of one of Morty's clones, and drops them in the middle of a multi-world-spanning adventure led by Rick, the star of Adult Swim's raunchy and weird take on Back to the Future. The game will cost $20.
Advertisement
According to Owlchemy (the studio behind the comedic virtual reality game Job Simulator), players will solve puzzles in Rick's garage, Morty's house, and on a variety of alien planets. Additional features include being yelled at by Rick, punching Rick, "real fake doors," belching, and voice acting by Rick and Morty co-creator Justin Roiland, who plays both Rick and Morty. So, yes, Virtual Rick-ality is a truly authentic Rick and Morty experience.
The folks at Polygon got their hands on the game last summer at San Diego Comic-Con, and chatted a little bit with Alex Schwartz of Owlchemy Labs about the project. Apparently, Roiland contacted the Owlchemy team after playing Job Simulator, and he invited the developers over to his house for an extended gaming session. During production, Owlchemy wrote rough versions of Rick's dialogue, which Roiland would tweak and record before sending it back to the developer.
Advertisement
The marketing materials for Rick and Morty: Virtual Rick-ality have been intentionally vague in order to preserve all the surprises, but Schwartz confirmed that players will be able to enter portals in Rick's garage, which will seamlessly transport them to strange worlds–just like in the show. Rick's garage is also filled with gadgets and easter eggs for players to interact with.
After a one-off episode that aired last week, Rick and Morty is on hiatus until this summer, making Rick and Morty: Virtual Rick-ality the only place to enjoy Roiland and Dan Harmon's wacky series for the next few months. You can sate your desire for all things Rick by checking out the secret history of the series, too.