Dr Disrespect Drops A Bombshell About His Lawsuit Against Twitch
Michael Tullberg/Getty Images
More than a year after Dr Disrespect's infamous Twitch suspension, fans still have unanswered questions about how things went down. While some new rules at Twitch might shed light on the Doc's ban in the future, fans have been in the dark ever since Dr Disrespect's forced departure from the platform. Now, the Doc has unexpectedly opened up about his experience streaming on YouTube, his ongoing lawsuit with Twitch, and his next steps.
During a "Warzone" streaming session on August 24, Dr Disrespect took a break to answer fan questions and acknowledge recent donations. One viewer asked for a list of pros and cons about the Doc's experience streaming on YouTube, and things got heated from there. "YouTube, you've got no viewership... The thing with [Twitch] over there, you know, chats stay alive, the energy stays active when you sign off," Doc explained. "It's alive." He also cited Twitch's many events and connection with Amazon as a benefit of the platform.
Dr Disrespect explained that even though fans think he's doing well on YouTube, his earnings haven't seen the highs they did when he streamed on Twitch. "We've certainly tried to maximize the most of what we have to work with," the Doc explained. "But that's the difference between the two." Dr Disrespect continued, noting that losing contact with Twitch also meant that he had to justify his ban to many of his professional connections, like EA. Then, in a move that surprised his viewers, Dr Disrespect dropped a bombshell about his current relationship with Twitch.
Dr Disrespect talks legal proceedings as fans cheer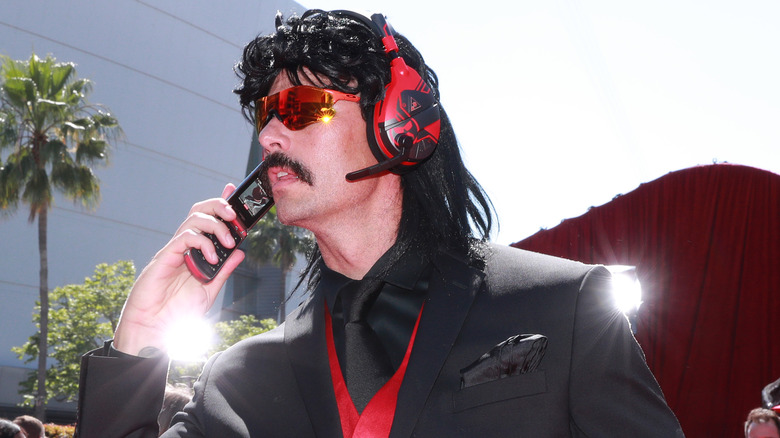 Rich Fury/Getty Images
The Doc revealed that he is suing Twitch, and things seem tense. He explained that he hasn't discussed his ban because of legal reasons. He commented that when fans ask him why he was banned, he thinks, "I've known for months now, the reason why ... and there's a reason why we're suing the f*** out of them. I don't know another way to put it." 
Dr Disrespect suggested that his case focuses on the damage done to his reputation, which has harmed his chances of working with some large brands. He explained that companies don't want to work with a "question mark" that may or may not be a good investment for them. In other words, the Doc has allegedly lost out on partnerships and professional relationships because of Twitch's decision to ban him.
Fans of the streamer supported him online, encouraging him to keep going and predicting big wins in his battle with Twitch. One fan remarked, "Man this was the stream of all streams... First time I have heard him really open up. It doesn't seem like it now Doc, but you are at the Tippity Top and barely started up the mountain." Others speculated that the Doc will be known as the "Three-Time" if he wins his battle with Twitch.
It's unclear how or when the Doc's legal battle will continue, as he's understandably hesitant to discuss details on stream. Fans will have to wait to see if the Two Time becomes the Three Time Champion after his match with Twitch.