A Classic Street Fighter Stage Returns In Street Fighter V DLC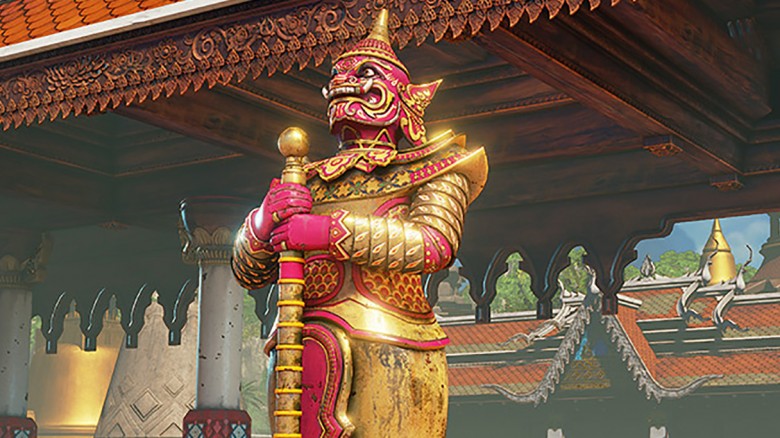 You never forget your first time.
Next week, Street Fighter V will return to Thailand, where the villainous dictator M. Bison made his debut all the way back in 1991's Street Fighter II. The new downloadable content will be available on April 25, and will cost $3.99 (or 70,000 Fight Money, if you prefer to pay with the in-game currency).
Advertisement
As described on Capcom's official blog, the Thailand level is an incredibly faithful homage to the 16-bit original, featuring the same golden statues and ancient bell as decorations. As revealed in some design sketches, the Street Fighter V team played with alternate versions of the level, including one set at night and lit by candlelight, but they ultimately decided to "stay true the original stage as much as possible."
Still, there'll be one big change when Street Fighter V visits Thailand: in Street Fighter II, M. Bison served as the final boss, and couldn't be controlled by players. In Street Fighter V, the Shadaloo boss is one of the 16 competitors available on the game's roster from the get-go. There are more characters than that available in Street Fighter V, but they were added after launch in content updates and DLC.
Advertisement
In addition to the Thailand stage, Ryu, Juri, and Chun-Li will receive alternate costumes based on traditional Asian school uniforms. Ryu's new look is modeled after the clothes worn by a banchō, which is a leader of juvenile delinquents. Capcom notes that Ryu's look is authentic, too, and was created with the help of a staff member "who actually used to wear clothes like this when he was younger." Chun-Li is dressed like a put-together honor student, while Juri adopts some gothic attire. The costumes will sell for $3.99 each, and will also be available on April 25.
Street Fighter V was released a little over a year ago, and it was met with decidedly mixed reviews. Although it didn't necessarily kill the franchise like some predicted.
If the retro-themed Thailand stage has you hankering for more old-school Street Fighter action, stay tuned: Ultra Street Fighter II: The Final Challengers (yet another edition of the decades-old fighting game) will be released on the Nintendo Switch on May 25.