Blink And You'll Miss This Incredible Wolverine Trailer Detail
There's a very exciting detail many fans likely missed in the brand-new announcement trailer for "Marvel's Wolverine," which was revealed during the September 9, 2021 PlayStation Showcase. No one could blame gamers for not noticing, though, since the trailer ran only 44 seconds. After all, the incredible detail's reveal was so subtle viewers would miss it in just a blink. 
Advertisement
The PlayStation Showcase gave gamers a lot to unpack, and much of it connects to the announcement of "Marvel's Wolverine." In addition to that surprising showcase feature, superhero fans had a heyday when they learned that "Marvel's Spider-Man 2" is also on the way. Both of these new games are coming from developer Insomniac Games, beloved for its work on both "Marvel's Spider-Man" and "Marvel's Spider-Man: Miles Morales."
On top of that, "Marvel's Wolverine" was actually inspired through brainstorming sessions during the creation of "Marvel's Spider-Man," according to an update shared to the PlayStation blog after the trailer reveal. So, if you've played any of the existing "Marvel's Spider-Man" titles, you can expect the same level of cinematic excellence and dynamic gameplay from "Marvel's Wolverine." ​​Speaking of beloved Marvel heroes popping up when you least expect them, wait until you learn about the giant detail many gamers missed in the "Wolverine" trailer.
Advertisement
Hulk's Hidden License Plate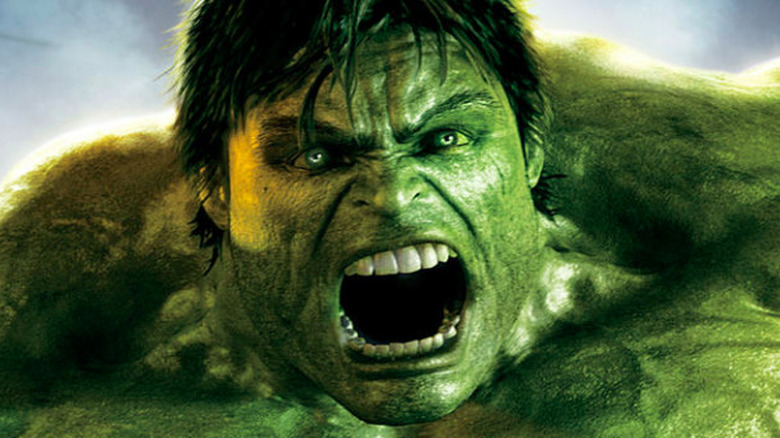 Universal Pictures
Roughly 18 seconds into the "Marvel's Wolverine" trailer, the camera zooms in on Wolverine sitting at a bar. To his right, there's a license plate that reads "HLK 181" in view for no more than four seconds. As sussed out by Screen Rant and AIPT Comics, this mysterious and easy-to-miss plate could very well be present as a reference to Issue 181 of "The Incredible Hulk" comics, which contains "the first appearance of Wolverine" and "resulted in the two Marvel icons fighting." AIPT Comics' David Brooks further noted that the bar appears to be The Princess Bar, which is located in Madripoor according to "Marvel Comics Presents #1." 
Advertisement
As far as what this "Hulk" Easter egg means for the game, the jury's still out. It could be anything from a cute reference to another iconic Marvel hero to a full-out clue that Hulk is going to be a big part of the upcoming title. Since the cryptic release trailer is just about all fans have to go off of so far, there's a lot of room for interpretation. Regardless of Hulk's role in the upcoming "Wolverine" game, the reference indicated that the title, like "Spider-Man" before it, could have several fun connections to the larger Marvel universe and its characters.