Death Stranding: Hideo Kojima Talks Naked Norman Reedus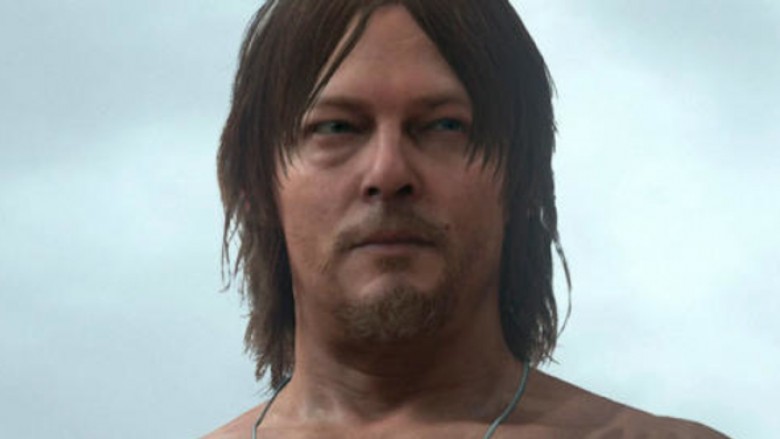 We finally have (some) answers about the nudity in Death Stranding.
Seasoned game director Hideo Kojima recently spoke at the Tribeca Games Festival in New York, spilling a few details on his highly anticipated (and super mysterious) forthcoming project Death Stranding. Kojima shared information (via GameSpot) on the title's engine and its in-world setting, but perhaps the most interesting update regards the director's decision to make Norman Reedus' character completely nude in the game's reveal trailer.
Advertisement
According to Kojima, having Reedus appear naked in the first official trailer for Death Stranding was something he "very specifically had in mind" ahead of time, as he wanted audiences' first impression of the game to be a shocking one. "I wanted people to see first a naked Norman," Kojima explained.
Additionally, Kojima stated that Reedus' character will be naked at the outset of Death Stranding as well, but players can see him dress up as they progress through the game. "Then from [the nude scene], you will be able to see him in different costumes, in different hairstyles, different equipment," Kojima said of Reedus' character. The director quickly noted "that's as much as I should say today" after dishing up those details. Sounds like there are more secrets to be uncovered in the future.
Advertisement
Death Stranding is currently in development with Kojima and his team at Kojima Productions, who are working with a Decima engine to run various tests as they continue crafting the game. This news suggests that Death Stranding may still be in its early stages of development, a hint that seems to work against past reports that state Death Stranding may release some time in 2018. However, only those at Kojima Productions (and those privy to insider information) know the full story. And, as Kojima noted, things are ship-shape behind the scenes regardless.
"We are continuously doing different tests for game systems, for characters, for environments," Kojima said. "So far, it's going pretty well."
Kojima revealed that the team is testing out a New York environment, but that's definitely not where Death Stranding is set. Kojima Productions have also crafted a restaurant setting that may serve as the backdrop for a scene between Reedus' character and another yet-undecided character. Kojima explained that the team is still figuring out small details in this sequence such as dialogue, place settings, menu, and the table the characters sit at.
Joining Reedus in Death Stranding are Hannibal actor Mads Mikkelsen and film director Guillermo del Toro. The upcoming game is a PlayStation 4 exclusive.
Advertisement
No set release date for Death Stranding has been announced, though it's expected to debut in 2018. While we wait, check out the other games that will blow everyone away next year.