Pokemon's Ash Voice Actor Hilariously Trolls Fans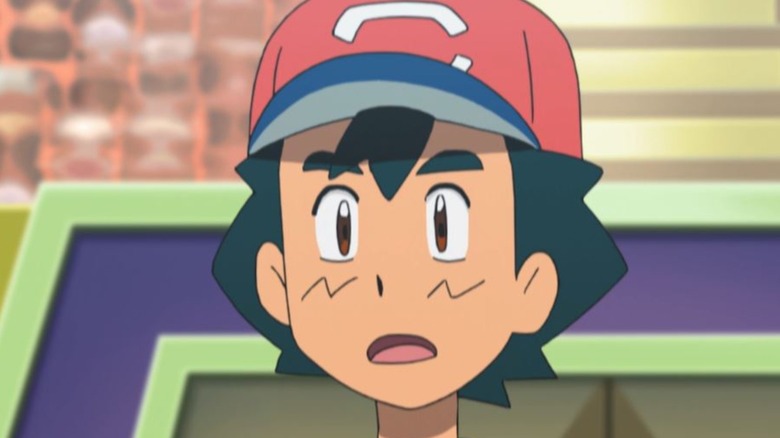 The Pokemon Company
While Ash Ketchum has done some questionable things in the past two decades of the "Pokemon" anime series, he ultimately has a good heart. So it also makes a lot of sense that the iconic Pokemon trainer's voice actor also likes to cut up at times. Sarah Natochenny, who has been voicing  Ash since 2006, went undercover at New York Comic Con last weekend to troll fans, taking pictures and video with all the Ash cosplayers without tipping people off to her identity.
Natochenny finally revealed her prank on TikTok, and the video quickly went viral. There are several cosplayers featured in her video, and Natochenny only told one of them who she was.
In true Ash Ketchum style, Natochenny's video showed her literally running everywhere around the con looking for more Ash Ketchums, explaining to the camera that she had to "find 'em all." While Ash only defeated a surprisingly small amount of gym leaders throughout the series, Natochenny found a surprisingly large amount of Ash cosplayers.
There was a wide variety of Ash Ketchum cosplayers at the con, with one of the most interesting having a full-on horror theme. In a look that mashed up "Pokemon" with "Evil Dead," both Pikachu and Ash sported a chainsaw in one cosplayer's take on the character.
Fans loved the Pokemon prank
"Pokemon" fans seemed to love the idea of Natochenny's video when she revealed the truth, and she even had ideas to try and spark more fun with fans. One comment from a parent said that their child was shocked to learn that Natochenny was the voice behind Ash, and this prompted an idea for further TikTok shenanigans.
In a video reply to the comment, Natochenny said that seeing kids' reactions to her job was one of her favorite things, and she encouraged parents to film their kids' reactions to finding out who she is. She plans to make a compilation or react to her favorite clips in a future post.
Another fan asked her for a video introducing herself as Ash Ketchum, and Natochenny responded by sharing a clip from a past Vanity Fair interview. In the clip, Natochenny pointed out that she actually plays the role of Delia, Ash's mom, as well as various Pokemon.
Of course, this viral TikTok isn't the first time Natochenny has posted "Pokemon"-related clips on her channel. She's also posted various "Pokemon" challenges and even a video of her cat, whose name is Pikachu. Natochenny's love for the "Pokemon" series is put on full display on her TikTok account, so you can follow her there to catch plenty more wholesome content.