Dr Disrespect's Costume Change Has Fans Cracking Up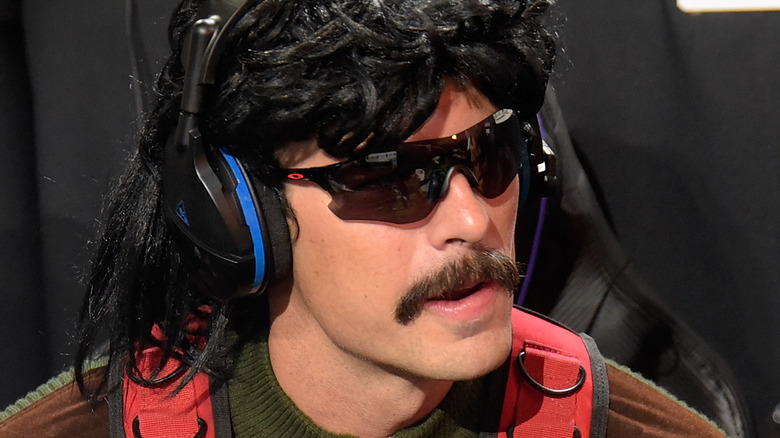 Michael Tullberg/Getty Images
Despite his shady side, video game streamer Dr Disrespect's over-the-top appearance and online persona has made him one of the most prominent streamers in the world, with fans and viewers flocking to his content in droves even after he was suspended from the Twitch platform last June under ambiguous circumstances. Despite being good at most games he plays, Doc is known primarily for his comedic presentation, in which he sports a mullet wig, a handlebar mustache, a black sweater, and tinted reflective sunglasses. One change to this get-up has lead to one of the most hilarious online roasts in recent memory.
For his October 13 stream on YouTube, Doc swapped his signature black sweater for a white one, leading to multiple people comparing his appearance to that of Fire Mario, a powered-up form of iconic video game character Mario. One viewer even brought this up on stream, saying "Hey, Fire Mario, you look like Dr. DisRespect" while providing a $4.99 donation (per Dexerto). Doc's face after reading the super chat is nothing short of hilarious. Doc then went on to Google images of Fire Mario, eliciting another entertaining reaction.
Social media reacts to the roast
Following the funny super chat comment, many people ran with the joke, with memes of Doc's being abundant on social media. An image uploaded by Twitter user @StealthySeth showed Fire Mario wearing a pair of Doc's trademark sunglasses, while user @Jupiter_Licht posted a picture of a Fire Mario plush toy, calling it "Dr. Disrespect merch". @WickedGoodGames chimed in as well, posting Doc's reaction to images of Fire Mario — and his realization that it's kinda true — next to the infamous "no, you" Spider-Man meme.
In the aftermath of this public roast of one of gaming's most infamous streamers, it remains unknown whether the Doc will return to his usual black sweater, or if he'll own the new look and use it as part of his schtick for future streams. After all, the Doc is a comedy character, and adding another layer to that could definitely be beneficial. However, he could always deduce that it gets in the way of his "violence, speed, and momentum", and subsequently revert back to his old ways to further dominate "Call of Duty: Warzone."
Nobody really knows what the two-time Blockbuster Video Game Champion will do for future streams. Either way, we're glad it happened, and it was worth the chuckle.