Skyrim TikTok Star Charged With Brutal Murder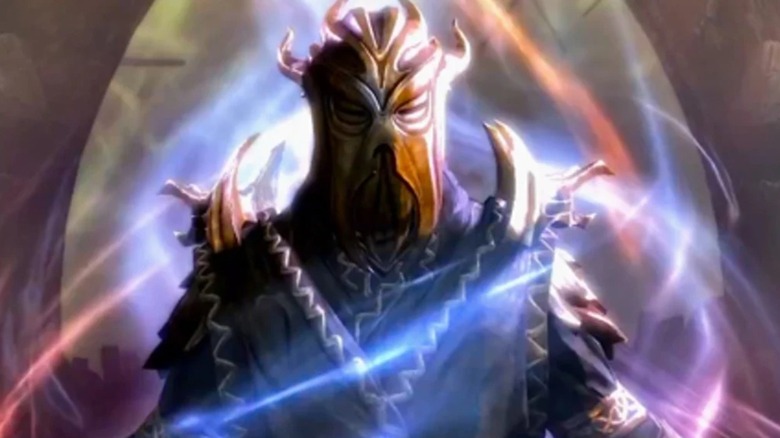 "Skyrim" has positive associations for many people, and several streamers, like Skyrim Grandma, have become popular by creating content based on the game. Unfortunately, one "Skyrim" content creator has now made headlines for an entirely different reason. Ali Nassar Abulaban — most popularly known as "JinnKid," the man behind the "Skyrim in Real Life" TikTok series — has been arrested on suspicion of murder following the death of his estranged wife, Ana, and her friend, Rayburn Barron, on October 21. According to reports from NBC San Diego, Ana was in the process of ending the marriage when the murders took place and had accused Abulaban of stalking her after kicking him out of their home on October 18.
San Diego Deputy District Attorney Taran Brast explained to NBC San Diego that on the morning of the murders, Abulaban vandalized Ana's apartment and installed an app on his 5-year-old daughter's iPad that allowed him to monitor activity in the apartment. Abulaban heard his estranged wife's voice along with a man's and returned, allegedly killing them both before leaving to pick up his daughter from school. Video footage from a neighbor's apartment shows Abulaban leaving the home shortly after the murders allegedly took place.
The police later intercepted Abulaban while driving with his daughter and arrested him in connection with the murders. However, his involvement isn't just based on camera footage alone. Abulaban additionally discussed the incident with his mother before an initial hearing.
Abulaban has plead not guilty to the murder of his wife and her friend
Following the murders, Abulaban allegedly "confessed" the murders to both his mother over the phone and to the police after his arrest, according to prosecutors. However, when appearing in court shortly after his arrest, Abulaban plead not guilty to two counts of first-degree murder. The court has denied him bail ahead of a preliminary hearing that will take place on January 5, 2022. Video released by Fox 5 San Diego showed the court session, in which family and friends of both Abulaban and the victims can be heard gasping and sobbing upon hearing the details of the murders for the first time. If convicted, Abulaban faces life in prison without the possibility of parole.
Prior to his arrest, Abulaban had gained popularity on social media platform TikTok for his humorous "Skyrim in Real Life", which sometimes included his wife, as well as impressions of Scarface protagonist Tony Montana.
If you or someone you know is dealing with domestic abuse, you can call the National Domestic Violence Hotline at 1−800−799−7233. You can also find more information, resources, and support at their website.